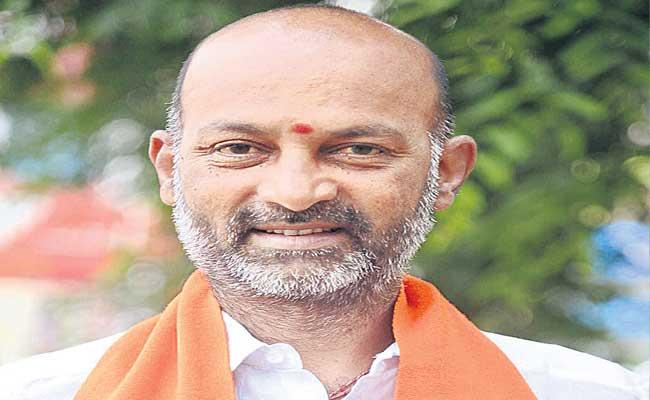 BJP's Telangana unit president Bandi Sanjay Kumar on Thursday asked Chief Minister K. Chandrasekhar Rao if he has information about some people conspiring to create communal clashes then he should not wait, but take action against them.
He alleged that by issuing a statement, the chief minister is trying to stall elections to Greater Hyderabad Municipal Corporation (GHMC) by creating a situation where people can't cast their votes in a free and fair manner.
Sanjay, who is also a member of Parliament from Karimnagar, said the chief minister was making such statements as the ruling Telangana Rashtra Samithi (TRS) was afraid of losing the elections.
He was reacting to the chief minister's direction to the police to deal with an iron hand some anarchic forces conspiring to create communal tensions and clashes to draw political mileage in GHMC elections.
The BJP leader said CM's statement itself could create law and order problems. "He himself appears to be hatching a conspiracy as TRS is losing and BJP is winning GHMC polls."
He wondered why the chief minister failed to take action when he had definite information. "If you have definite information, will you tell this to media or take action," he asked and demanded that the government book cases and arrest them irrespective of the party they belong to, so that the elections can be held in a peaceful atmosphere.
Sanjay said a similar claim was made before by-elections to Dubbak Assembly seat but people gave a befitting reply to TRS. He claimed that there will be a similar outcome in GHMC polls.
The BJP leader was talking to media after a visit to ghats of former Prime Minister P. V. Narasimha Rao and former Andhra Pradesh chief minister N. T. Rama Rao on the banks of Hussain Sagar lake. His visit came a day after Majlis-e-Ittehadul Muslimeen (MIM) leader Akabruddin Owaisi challenged the government to demolish the samadhis of two leaders if it was sincere in removing encroachments on lakes in the city.
Sanjay demanded that a criminal case be booked against Akbaruddin Owaisi and he be arrested for threatening to demolish samadhis of the two great personalities. Terming the MIM leader's comments as 'anti-national', he questioned the silence of the chief minister on the issue.
The BJP leader claimed that MIM leader threatened to demolish samadhis as N.T. Rama Rao used to wear saffron dress when he was chief minister while Narasimha Rao played an 'inspiring' role in Ayodhya issue.
The MP said KCR's respect for Narasimha Rao is confined to lip sympathy and celebrating his birth anniversary. "He is not even opening his mouth to condemn the insult of NTR under whom he started his political career," Sanjay said.
Stating that BJP will protect samadhis of the two leaders, he reiterated that if MIM demolishes them, his party workers will pull down MIM office 'Darussalam'.
Click Here for Latest Direct-to-OTT Releases (List Updates Daily)