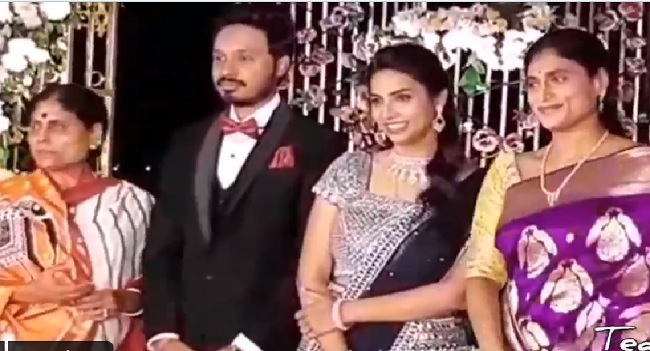 As Y S Sharmila, daughter of former Andhra Pradesh chief minister Y S Rajasekhar Reddy, is getting ready to launch her political party soon, she appears to have focussed on reaching out to the people through social media.
Though Sharmila is not posting messages on her Twitter handle directly, her social media team, in the name of @teamYSSR, has become very active these days, posting her activities and programmes regularly.
Apparently, Sharmila wants to expand her fan base in the social media as much as she can before actually launching her party officially. And she feels this would help her attract the voters by next elections.
In the early hours of Monday, the Team Y S Sharmila posted an interesting information about Sharmila attending a wedding ceremony in Hyderabad. She was accompanied by her mother Vijayamma at the function.
What is more interesting is that, the function was also attended by Y S Sunitha, daughter of YSR's younger brother Y S Vivekananda Reddy, who was brutally murdered in March 2019, a month before the assembly elections in Andhra Pradesh.
All these family members shared the dais of the wedding ceremony. But conspicuous by their absence was Sharmila's brother and Andhra Pradesh chief minister Y S Jagan Mohan Reddy and his wife Y S Bharati.
This posting led to the gossip that all is not well in Jagan's family. There were comments that Jagan might be too busy with his schedule in AP to attend the wedding, but his wife should have attended the wedding, which was attended by all other family members of YSR.