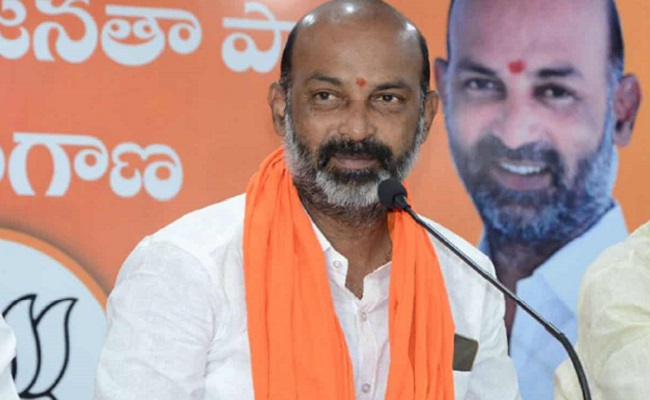 The latest arrest of Bharatiya Janata Party Telangana unit president Bandi Sanjay on the charges of violation of Covid-19 restrictions in Karimnagar and the subsequent war of words between the BJP and the Telangana Rashtra Samithi leaders is believed to be part of a well-planned understanding between the two parties.
This is what the Congress party in Telangana suspects. State PCC president A Revanth Reddy is of the view that the strategy of the two parties is to neutralise the Congress for ever in the state.
The reason for Revanth Reddy's suspicion is said to be a secret survey, supposedly commissioned by TRS president and chief minister K Chandrasekhar Rao through his intelligence sources.
The survey report, submitted to KCR a few days ago, is learnt to have revealed that there is a strong anti-incumbency sweeping across the state and surprisingly, if the elections to the state assembly are held now, it will be the Congress and not the BJP, which will emerge victorious.
According to this survey, the Congress is likely to get 75-83 seats in Telangana and in most of the places, the TRS would go to the third place.
This appears to be unbelievable, but if at all it turns out to be correct, it will damage both the TRS and the BJP.
That is the reason why the TRS boss, during his recent visit to New Delhi, finalised a strategy after discussing with the top BJP leadership.
Going by this strategy, the TRS should provoke the BJP on the paddy procurement issue and it would lead to a battle between the two parties.
The BJP would have to take an aggressive stand against the KCR government, so that it should appear as an alternative to the TRS.
The party would get such a hype that people would ignore the Congress and turn towards the BJP.
KCR knows that if the Congress graph goes down much before the elections, it is easy to tackle the BJP.
That is precisely why he is using his moles in the Congress including T Jagga Reddy, Mallu Bhatti Vikramarka and others to revolt against Revanth.
"His aim is to see that the people get disgusted with the infighting in the Congress. Since the BJP doesn't have enough strength to win majority of the seats in Telangana, it will be easier for the TRS to retain power," an analyst observed.