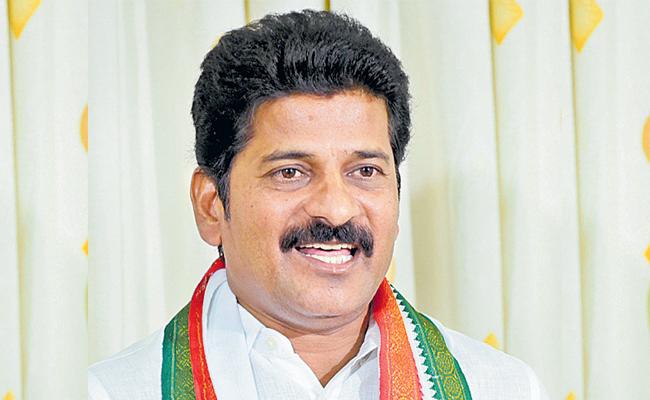 Even as Telangana Rashtra Samithi president and chief minister K Chandrasekhar Rao is said to be seriously engaged in the strategies to realise his 'national mission,' his political rivals in the state are turning more and more aggressive.
While the Telangana Bharatiya Janata Party is hoping to get a lot of rejuvenation with the conduct of party's national executive committee meeting in Hyderabad on July 2 and 3, Telangana Pradesh Congress Committee president A Revanth Reddy is silently strengthening the party in the areas where it is weak.
Sources close to Revanth said he has started identifying the constituencies where the party is suffering from leadership crisis, but the cadre is intact.
He is now focussing on attracting disgruntled leaders who had defected from the Congress into the TRS in the past few years.
Take for instance, the PCC chief managed to attract former MLA Nallala Odelu, who hails from Chennur assembly constituency in Mancherial district (erstwhile combined Adilabad district).
Odelu, who had been facing an identity crisis after joining the TRS due to domination of sitting MLA Balka Suman and others, was contemplating joining the BJP, but after speaking to Revanth, he preferred to stage a comeback to the Congress.
Interestingly, his wife Nalla Bhagya Lakshmi, who is Mancherial zilla parishad chairperson, also resigned from the post and joined the Congress in the presence of Priyanka Gandhi in New Delhi.
Similarly, TRS corporator P Vijaya Reddy, daughter of former Congress Legislature Party leader late P Janardhan Reddy, dumped the TRS to join the Congress. Khairatabad, which was once a stronghold of the Congress, has become a TRS bastion after Danam Nagender joined the ruling party.
In Khammam, too, the TRS leaders who have realised that the party is losing ground in the district, are making a beeline to the Congress. Former MLA Thati Venkateshwarlu, who defected from YSR Congress party to the TRS in 2014, has now joined the Congress party due to Revanth Reddy's initiative.
So, Revanth is identifying such strong but disgruntled TRS leaders and attracting them into the Congress.
"In the coming days there are going to be many such defections from the TRS into the Congress. Revanth is playing his cards close to his chest on inviting such leaders into the party, so that it would be a shock to the TRS," sources said.