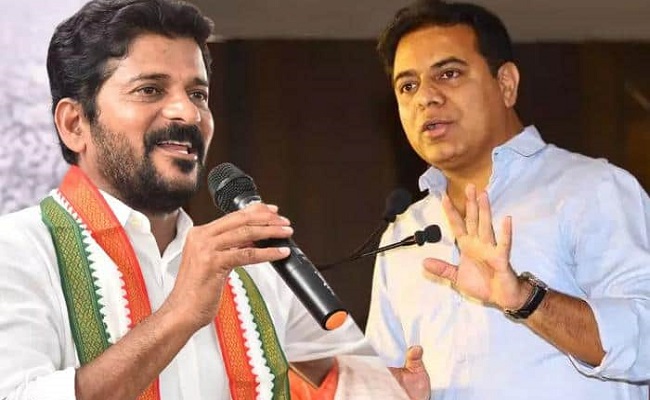 The ongoing war of tweets on the social media between Telangana Pradesh Congress Committee president A Revanth Reddy and Telangana Rashtra Samithi working president K T Rama Rao has generated a lot of heat and dust in the Telangana politics.
It started with a tweet of Revanth Reddy on Sunday stating that he has started #WhiteChallenge campaign on the social media to create awareness among the youth on increasing drug menace in the country.
He declared that he was ready to take the first test for drugs and would give his blood and hair samples for the tests.
Not to be content with his campaign, Revanth mischievously tagged KTR and former Chevella MP Konda Vishweshwar Reddy, throwing them a challenge to get ready for the drug tests in the name of #WhiteChallenge.
He asked them to come to Telangana Martyrs' memorial at Gunpark in front of the state assembly to accept the challenge.
While Konda Vishweshwar Reddy accepted the challenge and agreed to come to the Gunpark to give his blood samples, KTR reacted strongly to Revanth's challenge with a challenging tweet in his own style.
He said he was ready to travel to AIIMS in Delhi, if Congress leader Rahul Gandhi was willing to join him for drug analysis tests.
"I am ready for any test & will travel to AIIMS Delhi if Rahul Gandhi is willing to join. It's below my dignity to do it with Cherlapally jail alumni (sic)," Rama Rao tweeted.
Obviously, KTR was taking a dig at Revanth Reddy who was in Cherlapally jail in connection with the Note for Vote case.
KTR, who is also the IT minister of the state, also sought to know whether Revanth Reddy would tender an apology and resign from his posts, if he (KTR) takes the test and gets a clean chit.
He also questioned whether the TPCC president was willing to undergo a lie detector test on the Note for Vote case.
Revanth shot back on Twitter, saying: "Indicate time and place @KTRTRS for the lie detector test along with KCR on CBI cases on corruption charges in Sahara Provident Fund and ESI hospital construction scandals. #WhiteChallenge."
Later, Revanth and Vishweshwar Reddy came to Gunpark as part of their challenge, but KTR did not turn up.
"Had KTR accepted the challenge, his stature would have gone up. He should not have talked about status and stature," Vishweshwar Reddy said.
Revanth Reddy alleged that KTR was running away from the challenge and was making baseless statements to divert the attention of the people from the drugs issue.
"I have not said KTR is taking drugs. I have only tagged him for my challenge, so that he would take steps to prevent the drug menace. But he chose to launch a counter-attack," the PCC chief said.