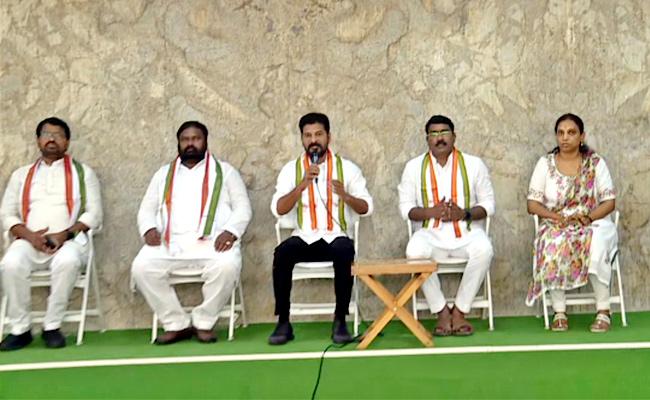 Telangana Rashtra Samithi's corporator from Khairatabad division P Vijaya Reddy on Saturday announced her decision to resign from the party and join the Congress party.
Vijaya Reddy, daughter of former Congress Legislature Party leader and former minister late P Janardhan Reddy, popularly known as PJR, met Pradesh Congress Committee president A Revanth Reddy in the morning and said would be joining the party for a bright future.
"I am joining Congress party to continue the legacy of PJR. It feels like returning to the home party" Vijaya Reddy said.
She claimed that despite fulfilling and performing all the tasks given by TRS party, there was no recognition. There was a boundary imposed in TRS, she said.
"I thought the Congress would provide me the right platform to showcase my talent and power and that's the reason I am joining the party," said Vijaya Reddy, while taking part in the press conference along with Revanth Reddy.
Though there was no assurance from Congress party to allot MLA ticket to her, Vijaya Reddy said there was still time for elections. This was not the right time to discuss such issues, she added.
Vijaya Reddy, who was originally with the Congress party after the death of her father in 2007, later joined the TRS and got elected to the GHMC twice from Khairatabad. Though she played an important role in the party, she could not get the assembly ticket.
This time, she expected that she would be made the Hyderabad Mayor, but the chance had gone to Gadwal Vijayalakshmi, daughter of senior leader and Rajya Sabha member K Kesava Rao. She boycotted the Mayoral elections and walked out of the hall, but was pacified by the TRS high command.
Since then, she has been sulking and keeping a low profile. Now, she has decided to return to the Congress with a hope that she would get the party ticket for the assembly elections.