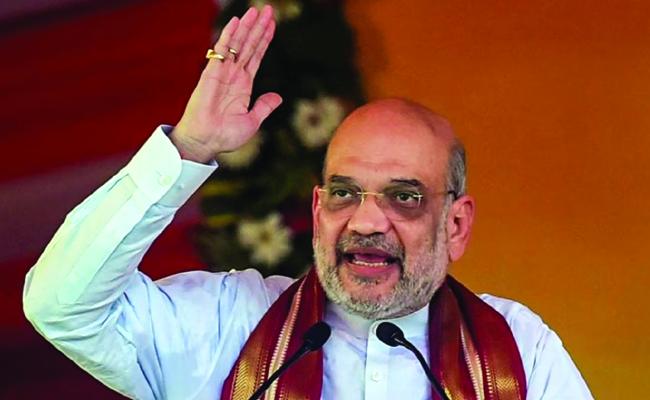 Home Minister Amit Shah on Monday said that India's first Home Minister Sardar Patel liberated Telangana from Razakars and Nizams.
Addressing BJP's election rallies at Jangaon and Korutla, he slammed KCR government for not celebrating Hyderabad Liberation Day due to pressure from MIM.
"We have decided that once BJP government is formed in Telangana, every year September 17 will be officially celebrated as Hyderabad Liberation Day," he said
Amit Shah paid tributes to those who laid down their lives while fighting Razakars at Bairanpally village. He said if BJP is voted to power, it will commemorate the Bairanpally massacre on August 27 as 'Razakar Horrors' Remembrance Day.
The BJP leader said a memorial will be constructed at Bairanpally to pay homage to the martyrs.
He dubbed the KCR government as number one in corruption in the country. "Once BJP comes to power, we will conduct an inquiry into all the scams and the corrupt will be thrown behind bars," he said while alleging that many scams took place in the state during BRS rule.
Alleging that KCR government is indulging in minority appeasement, Amit Shah said that after BJP comes to power in the state, it will scrap four per cent reservation for Muslims and increase the reservation of BCs, SCs and STs.
Stating that the coming election will decide the future of Telangana and the country for next five years, he alleged that KCR failed in fulfilling his promises.
He said the BJP has promised that after BJP comes to power, the chief minister will be from backward classes. He promised that justice will also be done to Madigas by providing them with a vertical quota.
Targeting BRS, MIM and Congress over family rule, he dubbed them as 2G, 3G and 4G parties.
"BRS is a two generations party. Owaisis are controlling the party for three generations while Congress is being run by fourth generation," he said while claiming that BJP is the party of people of Telangana.
Amit Shah claimed that under Prime Minister Narendra Modi, India has earned respect and glory across the globe. He said by hosting the G20 conference, the government has further added to the country's pride.
He also stated that construction of the new Parliament wiped off symbols of slavery while tricolor was sent to the moon through the Chandrayan mission.