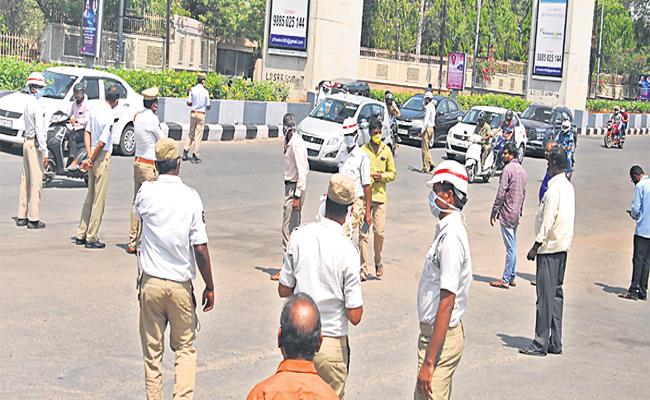 There is no doubt that the police are doing a commendable job in implementing the lockdown orders issued by the Telangana government and controlling the unruly crowds that are coming on to the roads in large numbers breaking the orders.
But at the same time, the police are also known for their highhanded behaviour and when they are given power, they don't mind unleashing terror on the people.
Both the central and state governments have given clear instructions that office going people, doctors, medical professionals and media persons are exempted from the lockdown orders.
Many of the top police people are aware of the same, but the orders have not percolated down to the police on roads.
Following strict enforcement of lockdown orders on Monday night, the police had a crackdown on media persons who were returning to their homes after completing their duties late in the night.
Several instances of journalists, including senior reporters, bureau chiefs and even editors, facing the lathi charges by the police came to light on Tuesday morning.
The police also hurled abuses at them, held the journalists by collar and pushed them back. Some policemen even broke the headlamps of the scribes' bikes.
For example, at Begumpet, the deputy resident editor of a national English daily was assaulted by the police and held by his collar. At Uppal, political bureau chief of a popular Telugu daily was also beaten up.
At Secunderabad, a resident editor of an English daily was also stopped and questioned for a long time before being let off.
There were also instances of the police assaulting duty doctors and nurses at Secunderabad, Suryapet and some other places in Telangana.
What is worse, the police put up barricades on the roads to stop people returning from their duties. This resulted in several people assembling together.
"The police are expected not to allow human to human contact. Instead, they stopped all of them at one place by putting up barricades," another journalist commented.
CLICK HERE!! For the In Depth Updates on all the OTT Content