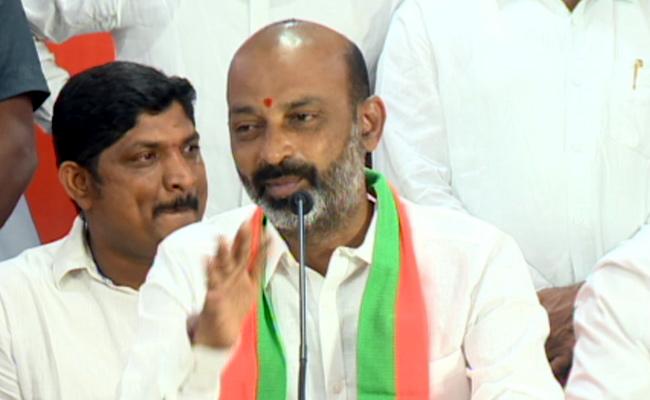 Bharatiya Janata Party Telangana unit president Bandi Sanjay Kumar on Wednesday expressed apprehension that if the Bharat Rashtra Samithi is voted to power again, chief minister K Chandrasekhar Rao would not hesitate to start door-delivery of liquor on the lines of Swiggy and Zomato.
Speaking to reporters, the BJP president said while the BJP was promoting sports with programmes like Khelo India, Jeetho Bhagyanagar, KCR was flooding the streets with liquor with the slogan: "Peelo Telangana, Pilao Telangana" by reducing the liquor rates.
"If KCR comes back to power again, there is no surprise liquor would be delivered at the doorsteps of the people like Swiggy and Zomato," he criticised.
Sanjay said the chief minister was spending public money lavishly on blowing his own trumpet, at a time when the weaker sections were struggling for survival.
"On the other hand, the KCR government has been imposing restrictions on and stifling the voice of media which are exposing the failures of his government. The time is not far off when the people of Telangana are going to ban the Bharat Rashtra Samithi," the BJP president said.
He alleged that KCR had stooped so low as to lure the journalists with money bags and request them not to write stories on the growth of the BJP in the state.
"The chief minister is least bothered about the plight of farmers who had suffered heavy crop loss due to unseasonal rains, unemployed youths and homeless poor. Instead, he pays money to farmers of Punjab, gives job to a Maharashtra at high salary and makes retired IAS officer, who was shunted to Andhra Pradesh by the courts, as his chief advisor," Sanjay said.
Stating that KCR had failed to fulfil his pre-election promises but burdened the people with huge debts, Sanjay assured that if the BJP was voted to power, it would focus on construction of houses for the poor people, providing them free corporate healthcare, compensation to the farmers who suffered crop losses and continue the fee reimbursement scheme.
He called upon the people of Telangana, especially the youth, to get the state rid of KCR and bring the BJP to power.