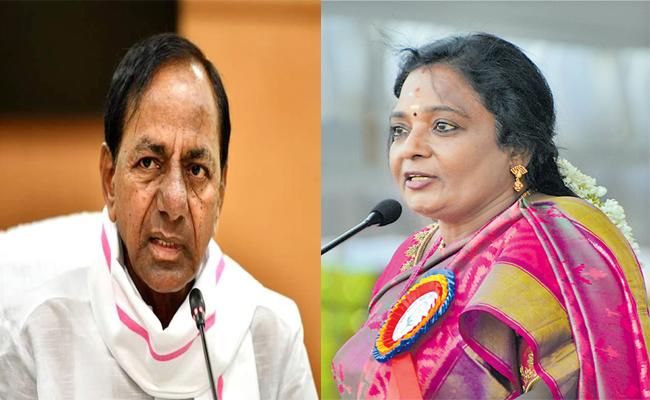 Telangana Rashtra Samithi president and chief minister K Chandrasekhar Rao once again displayed his utter contempt towards Governor Tamilisai Soundararajan by deliberately avoiding the customary "At Home" get-together hosted by her at Raj Bhavan on the occasion of 75th Independence Day on Monday.
As usual, the Governor invited the chief minister, his family, his cabinet colleagues and leaders of all political parties to Raj Bhavan for the get-together at 7 pm on Monday.
In fact, the Raj Bhavan received an intimation from the chief minister's office (CMO) that KCR would be attending "At Home" in the evening. Intimation was also sent to the police department to make all arrangements for the CM's visit.
Even media persons were communicated that the chief minister would be attending the get-together and Tamilisai, too, made all the arrangements to receive KCR and his family members.
But minutes before the get-together commenced, the Raj Bhavan received an information that KCR won't be coming to the event. With KCR deciding to stay away from "At Home," not a single cabinet colleague or the TRS leader attended the programme.
Only chief secretary Somesh Kumar, Hyderabad commissioner of police C V Anand and a few officials attended the event. Director General of Police M Mahender Reddy, too, did not attend the programme as he was suffering from Covid-19.
It was only recently that KCR came to Raj Bhavan after a gap of one year to attend the swearing-in of new chief justice of high court Ujjal Bhuyan. There, KCR and Tamilisai had a close discussion, forgetting their past differences.
But the differences surfaced again during the recent floods to Godavari, as the state government denied helicopter facility to her to visit flood-hit areas. She had to go by train and road. Her recent visit to IIIT-Basar was also taken seriously by the chief minister.
Hence, he decided to avoid going to Raj Bhavan at the eleventh hour. But giving the slip at the last moment is said to be a sort of insult to her.
Interestingly, Pradesh Congress Committee president A Revanth Reddy, too, skipped the event as he was suffering from Covid-19, while BJP state president Bandi Sanjay also stayed away as he was in padayatra. A few Congress and BJP leaders attended the get-together.