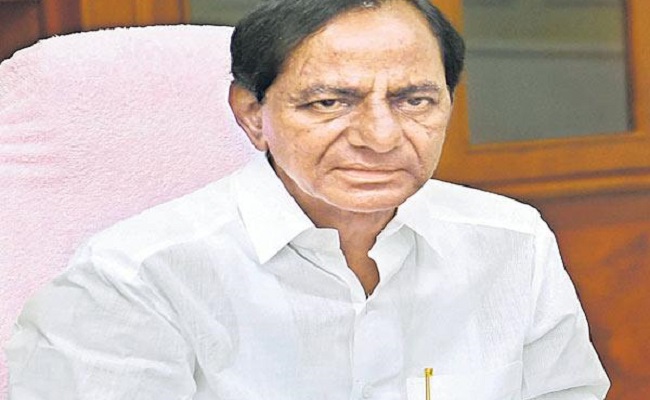 At a time when the death of four women due to botched sterilisation surgeries at a community health centre in Ibrahimpatnam in Telangana's Ranga Reddy district has rocked the state, Telangana Rashtra Samithi president and chief minister K Chandrasekhar Rao preferred to ignore it and flew to Bihar on his "national mission."
Ideally, the chief minister is expected to call on the families of the four victims of botched family planning surgeries, console them and give them cheques of ex gratia. The victims hail from poor families and have small kids who have now become motherless.
Yet, KCR did not bother about visit the families. What is worse, there is not even a statement from the CMO about the tragedy expressing condolences over the unfortunate deaths.
State health minister Harish Rao, too, did not call on the families, but went to hospital two days later, to interact with the women who are undergoing treatment and assured of all help to them.
Instead of the chief minister and health minister, it was director of health G Srinivasa Rao, who announced an ex gratia of Rs 5 lakh to each family and sanction of double bedroom houses for them and free education to their children.
In fact, the health director has no authority to give such an assurances or announce ex gratia. His duty is to ensure proper treatment to the victims and take action against the erring doctors. The announcements have to come from the chief minister.
What is more disgusting to the people of Telangana is that KCR went all the way to Bihar to personally pay ex gratia of Rs 5 lakh each to those Bihari migrant labourers who died in a fire mishap at Bhoiguda in Hyderabad a few months ago.
The ex gratia should have been paid immediately, but KCR chose to mix up his political mission with the ex gratia payment; so, he went all the way to Patna to do it, drawing criticism from various sections.
Never did KCR pay ex gratia to any family personally whenever such accidents took place in the past. When 63 people died in a bus accident at Kondagattu in Jagitial district a few year ago, KCR did not even bother to visit the place, let alone calling on the victims' families and pay ex gratia to them.
BJP state president Bandi Sanjay said Harish Rao, who was holding the portfolio of health and family welfare, should be held responsible for the botched sterilisation surgeries that led to the death of four women.
"The chief minister is not bothered about taking any action against Harish Rao, because the latter is his family member," he alleged.
He wondered why KCR had not bothered about calling on the victim's families.
"Instead, the chief minister chose to fly down to Bihar to distribute cheques to the families of Bhoiguda fire accident victims. For him, gaining publicity with such tricks is more important than poor women's lives. He will have to pay the penalty for the same," he said.