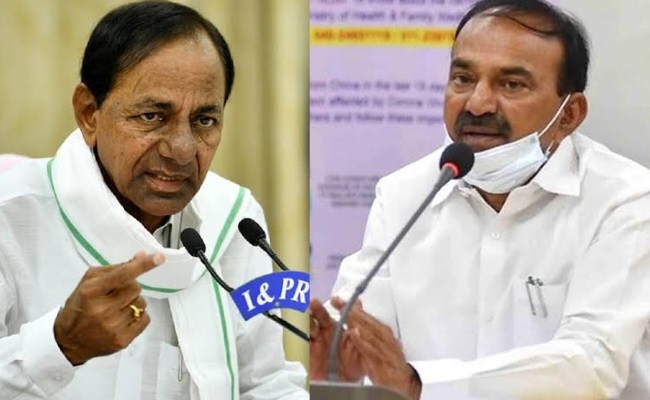 Telangana Rashtra Samithi president and chief minister K Chandrasekhar Rao, has started feeling the tremors under his feet ever since his party has lost the by-election to Huzurabad seat, which was won by former minister Eatala Rajender on Bharatiya Janata Party ticket.
In fact, the TRS chief has been feeling the real threat from the BJP only after the Huzuarabad by-election. That is why, he has developed a grouse against Rajender, who revolted against him when he was in the TRS. He doesn't want to see Rajender's face at all.
In the last budget session, KCR got Rajender suspended from the assembly for the entire session on the day one itself, so that he wouldn't have to face the BJP MLA again. This monsoon session, too, the chief minister has decided that Rajender should not enter into the assembly at all.
On the first day of the session itself, KCR got the session adjourned within 10 minutes even before Rajender came to the assembly. He ensured that Speaker Pocharam Srinivas Reddy did not call Rajender to the Business Advisory Council meeting.
A visibly hurt Rajender described the Speaker as "mara manishi" (mechanical man) and the TRS leaders made a hue and cry over the comment. They were planning to move a resolution seeking suspension of Rajender, if he comes to the assembly.
On Monday, Rajender did not attend the assembly as he was to attend the public meeting of BJP state president Bandi Sanjay who launched the fourth phase of padayatra. If he comes to the assembly on Tuesday, the TRS is planning to get him sacked from the House.
"Let me see, how long KCR will avoid seeing my face in the assembly. A day will come when KCR himself doesn't come to the House. I will take up the responsibility of seeing KCR out of the assembly. I shall definitely teach him a fitting lesson," Rajender said.