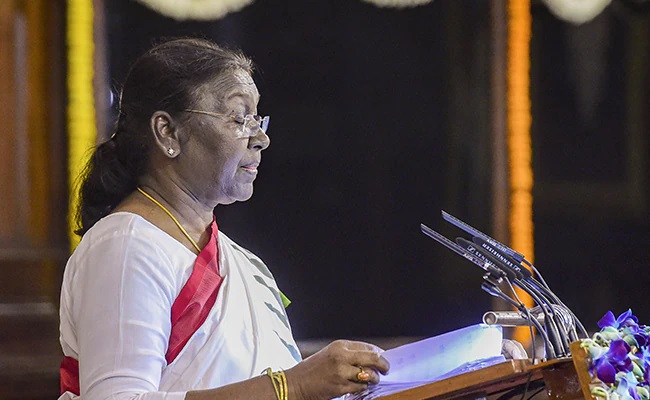 Whenever a new President of India is sworn in, it is customary that chief ministers of all the states attend the function because it is a national event and the President is the first citizen of the country.
But Telangana chief minister K Chandrasekhar Rao conveniently avoided the oath-taking ceremony of new President Droupadi Murmu held at the Central Hall of Parliament on Monday morning.
There were reports that KCR did not get the invite for the event, but inquiries revealed that all the CMs were invited.
Though KCR might have opposed the candidature of Murmu, as she was proposed by the Bharatiya Janata Party and he had supported the candidature of opposition candidate Yashwant Sinha, it was matter of courtesy that he should attend Murmu's swearing-in ceremony.
Once she is elected as the President of India, Murmu would be giving up all her political leanings and become an independent head of the nation. At least for that reason, he should have attended the ceremony.
In fact, several opposition leaders including Sonia Gandhi who opposed her candidature attended the event.
The only reason why KCR abstained from the function, according to TRS sources, was that he did not want to face Prime Minister Narendra Modi, who would naturally be the centre of attraction at the event.
Interestingly, Telangana governor Tamilisai Soundararan attended the swearing-in ceremony of Murmu. She said she could not attend the nomination programme and hence, she came to the oath taking ceremony.
She said it was a matter of pride for the entire nation to have a tribal woman as the head of the country.
At the same time, Tamilsai also gave a report to the Centre on the latest flood situation in the state and the steps taken by the state government to rescue the flood victims. She also explained the extent of damage to the state in floods.