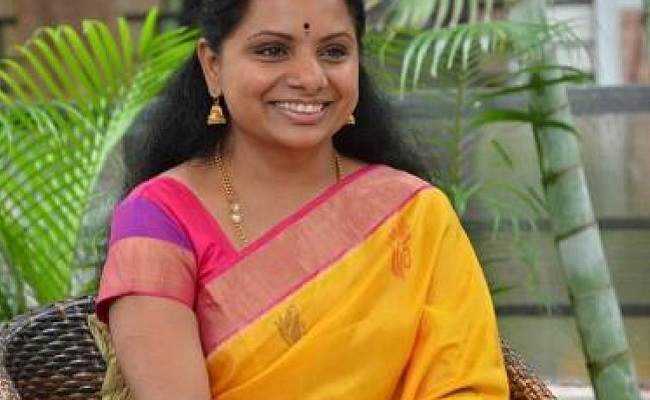 Whenever any elections are held, it is quite common for any political party to make an introspection and analyse the reasons for their poor or better performance in the elections.
In the just concluded elections to Greater Hyderabad Municipal Corporation (GHMC) elections, the Telangana Rashtra Samiti received a setback, though it emerged as the single largest party. It has fallen from 99 seats in the last GHMC elections to just 55 this time.
The loss of the TRS was the gain of the BJP, which improved its tally from four to 48. It was a remarkable show by the saffron party, which is now gearing up to put up to strong fight in the next assembly elections.
The TRS has to analyse the reasons for its fall and take corrective measures. It has to gracefully admit its mistakes and take corrective steps to recover.
But instead of admitting the party's fault lines, TRS leader and chief minister K Chandrashekar Rao's daughter Kalvakuntla Kavitha tried to put up a strange argument.
In an interview to a national channel on Friday evening, Kavitha sought to brush aside the victory of the BJP. She said the BJP paraded leaders and confused voters.
"It is the BJP tactic to go aggressive everywhere. We understand BJP tactics. We will make sure we are one step ahead in 2023," she said.
What is more surprising is that Kavitha claimed credit for stopping the BJP juggernaut in the GHMC polls.
"We have managed to put a stop to the BJP emerging as the largest party. The rest of the country can learn from the TRS. Hyderabad has shown the way to stop the BJP," she claimed.
It clearly showed the TRS had admitted BJP's strength to capture the GHMC and it could act in time to stop the BJP growth.
"We are not a weak party. We are a well-organised party with 60 lakh members and will fight back to make sure we are one step ahead in 2023 (assembly elections)," she said, indirectly admitting that the BJP is going to be threat for the TRS in 2023.
Click Here for Latest Direct-to-OTT Releases (List Updates Daily)