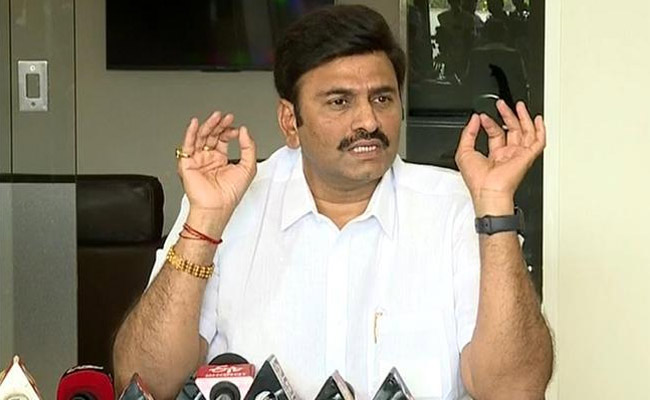 Maverick parliament member from Narasapuram Kanumuri Raghu Ramakrishnam Raju on Friday admitted that he had received summons from the Special Investigation Team (SIT) of the Telangana police in connection with the case of alleged attempt to poach four Telangana Rashtra Samithi MLAs into the Bharatiya Janata Party.
"I was asked to appear before the investigating officer at 10.30 am on November 29. I will respect the summons and attend the questioning," he said, while talking to reporters in Delhi.
Reacting to the reports that appeared in a section of media that he had arranged Rs 100 crore to the BJP for poaching the MLAs, Raju said he had neither money to arrange nor such animosity against the TRS government.
"I never uttered a word against the Telangana government. In fact, I said on many occasions that the TRS government was performing well. I don't think of harming Telangana chief minister K Chandrasekhar Rao even in my dreams. He is a good administrator," he said.
Describing himself as a settler in Hyderabad, the rebel YSR Congress MP said there were many such settlers like him in Hyderabad, who were staying peacefully.
"How can I even think of destabilising the TRS government?" he asked.
Raju said having been in the public life, he had to pose for photographs with so many people.
"Andhra chief minister Y S Jagan Mohan Reddy has been facing as many as 32 criminal cases and all his 151 party MLAs had posted photos with him. They cannot be called criminals, just because they took photos with him," he said.
The MP reminded that Nanda Kumar had taken photographs even with Kishan Reddy. That does not mean Kishan Reddy is also a criminal and he should be questioned in the poaching case, he said.