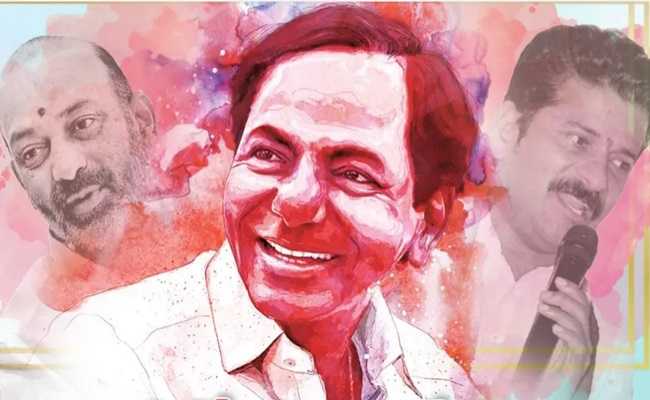 Greatandhra has conducted a comprehensive survey in the districts of Telangana to know the people's pulse on the government, their anticipations and grievances. There is an anti-incumbency wave in several parts of the state and as a result Congress and BJP are picking up. Yes, it's a surprise to see Congress ahead of BJP in many places.
It has been already eight years since Telangana State was formed. The next general election in the state is going to be in 2023 December.
The latest development is that the Congress is trying to breathe back after a long time. BJP is also making its swing but in the order it is just next to Congress. The fight is going to be triangular this time among TRS, Congress and BJP. But here, the biggest advantage for TRS is that the anti incumbency vote is going to split between Congress and BJP. It is certain that both Congress and BJP will never get united to dethrone TRS. That way TRS may emerge as the single largest party.
On a whole in the entire Telangana State 39% are inclined towards TRS while 31% are positive towards Congress and 28% stand for BJP. 2% are in NOTA mood.
Situation says that TRS is going to lose many seats this time though usurps the power at the end. It wouldn't be a cake walk and there is a lot of ground work that needs to be done before 2023 December.
Congress is showing its might in almost 40 constituencies including the old district regions of Nalgonda, Mahaboob Nagar, Adilabad and Rangareddy.
BJP is a way behind in building up the cadre in the state. It's not even on par with that of Congress. This party may show its power in 10-15 constituencies as per the present survey.
The anti incumbency is very high on many sitting MLAs. The land kabja controversies are on some MLAs where the TRS party should focus and avoid them from getting the tickets this time.
Considering the eight years of TRS rule the major feedback the Hyderabad citizens gave is about the water inundation during every rainy season and the lack of eye pleasing sanitation. The focus is pinned only on the westside of Hyderabad and the other regions are either ignored or belittled. This may hit a blow on the face of TRS.
The common point of many Hyderabadis is- "TRS will be drowned for sure if Hyderabad is drowned in the coming two rainy seasons. It has to work a lot on the drainage system".
The surprise factor in the survey is the picking up of Congress and an unavoidable tough time ahead for TRS.