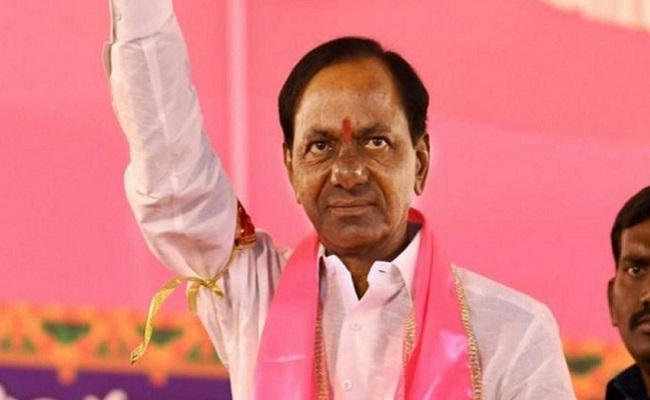 For the last few days, Telangana Rashtra Samithi led by chief minister K Chandrasekhar Rao has been going hammer and tongs at the Bharatiya Janata Party in general and Prime Minister Narendra Modi in particular.
The attack reached its crescendo with the allegations of poaching of four of the TRS MLAs by the BJP national leadership through three "brokers," which KCR alleged had come to Hyderabad on a mission to topple his government.
KCR made very serious comments against the BJP central leadership, particularly targeting Modi and Union home minister Amit Shah, alleging that they were toppling democratically-elected governments of opposition-ruled states by buying their MLAs.
So far, only BJP's Telangana unit responded to KCR's allegations. Except BJP national general secretary Tarun Chugh, who is in-charge of Telangana affairs, no Central leader has reacted to KCR's charges.
The BJP central leadership, which is focussing on Gujarat and Himachal Pradesh assembly elections, has preferred to remain silent on the Telangana issue.
But with the issue reaching the Supreme Court and KCR dragging Modi into the ugly episode, the BJP national leadership has decided to shoot back.
According to sources in Delhi, the BJP central leaders are preparing the ground to launch a counter-offensive against KCR and his family members shortly.
The offensive might start any day after Sunday, when the results for the by-election to Munugode assembly seat will be declared.
Irrespective of whether the BJP wins or loses the Munugode seat, the Centre will begin its operation Telangana in the next few days.
"It is going to be a surprise attack in such a way that KCR will not be able to recover so easily," sources said.
So, the political scenario in Telangana is all set to get heated up soon!