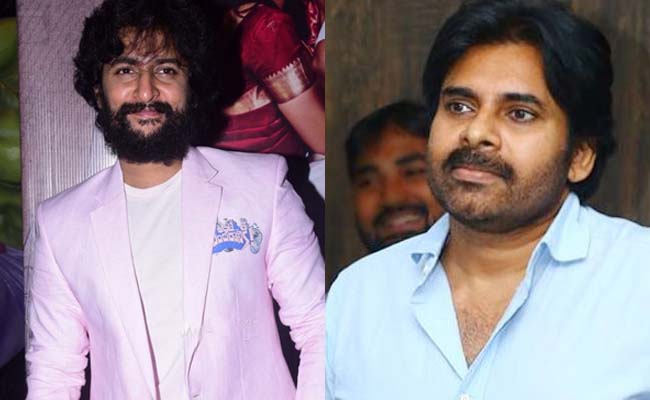 Pawan Kalyan is coming up as a Chief Guest to the pre-release event of Nani's upcoming film 'Ante Sundaraniki'.
But how far is this going to help the film? We cannot forget how he spoiled the fate of 'Republic' by talking about controversial political stuff from the dais. The producers who run several banners might have already decided not to invite Pawan Kalyan for any of their film events as it is difficult to control him during his speech. No one knows what he speaks once he stands in front of the mic.
Besides, Nani spoke something that became controversial during the campaign of 'Shyam Sigha Roy' and attracted the wrath of trollers.
Freshly 'Ante Sundaraniki' got good attention by the virtue of its trailer. Now with the presence of Pawan Kalyan in the pre release event, there are many chances to paint this film with political color. Though Pawan avoids speaking about politics and confines only towards endorsing the film, the anti fans may hate it and get into unnecessary trolling.
Already the YCP and TDP social media started negative propaganda about the film. Yes, with the recent developments, TDP wing is stern against Pawan Kalyan. So this is an unnecessary mess up with all this political dirt being glued to this film.
Nani would have avoided Pawan Kalyan and preferred some non-political person if at all he felt that his film hardly gets attention without the presence of a Chief Guest.
Mixing the movies with politics is not a wise thing as it leads to losing a great chunk of the audience, especially when the situations are being driven by social media these days.
Who is going to feel happy with Pawan in the event of 'Ante Sundaraniki'? The young director Vivek Athreya may feel that he may get close to Pawan Kalyan and get a chance to direct him down the line.
Nani doesn't need Pawan Kalyan in the first place. His own natural stardom and sense of humor are enough to pull the traction. But unnecessarily he is putting his own film in trouble with a wrong Chief Guest.
Usha Chowdhary