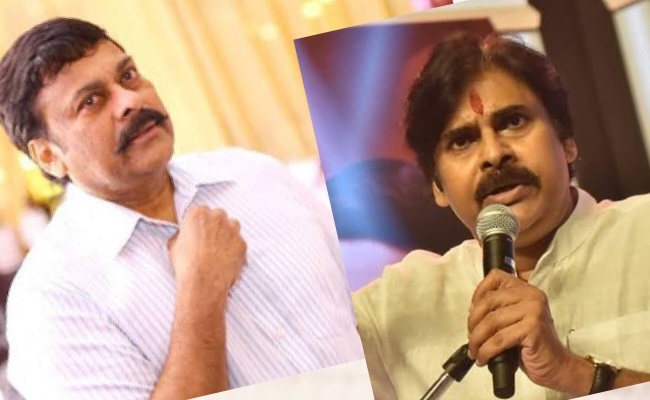 Pawan Kalyan's jealousy got exposed when he kept away from attending the unveiling of Alluri Seetarama Raju's statue as BJP invited Chiranjeevi by giving more importance to him.
Pawan grew as Chiranjeev's brother in his shadow. There is no personal identity for him without Chiranjeevi. But now he disowned Chiranjeevi and has been boasting himself as the son of Constable.
Chief Minister YS Jagan Mohan Reddy has respect for Chiranjeevi. Chiranjeevi also said that he was honored by CM's family and Bharatamma served food for him calling him 'anna'.
But still Pawan Kalyan lamented that it's wrong on Chiranjeevi's part to say namaste to the Chief Minister. It's the culture of our nation which is not known to Pawan Kalyan.
All that Pawan holds is a lot of inferiority complex and a forced superiority complex to cover that up. God has given him several things in life. He has fame, money, wife(s), children and a huge following. But still he compares with his brother and lives in a gloomy way.
He has no heart to accept that he is nothing without Chiranjeevi. That's the reason he is trolled all the time. Hardly anyone trolls Chiranjeevi who grew up out of his own toil and talent without any background.
Pawan Kalyan may feel that he is omnipotent with a huge fan base. He feels that he may control the senses of all those fans. But ironically, sometime ago he lamented that all his fans didn't vote for him, or else he would have won from his constituencies. That means he believes that his fan base is so huge that they form a large chunk of voters. At the same time he agrees that he has no control on them. That's his plight.
Keeping that aise, his dream is to see his fans getting united with Kapu political force and eventually joining hands with TDP Kammas to put a checkmate to YSRCP. This is called the height of daydream.
Kammas and Kapus never unite in AP. The latest example is during the show of Sarkaru Vaari Paata recently. A Pawan fan came into the theatre and shouted 'Jai Janasena' and with that Mahesh fans surrounded and battered by stripping him. When Mahesh fans (who are from TDP) treat a Pawan fan like this, how can we dream about unification of these two groups? Moreover Mahesh's brother in law Galla Jayadev belongs to TDP.
Pawan fans are not so mature enough to join hands with the ones they dislike, just for some political reason. Pawan is feeling bigger than Chiranjeevi with the small force of his fans and Kapu youth on whom he has no control. He should open his eyes and learn the truth about his weakness.
Naveen Mantripradaga