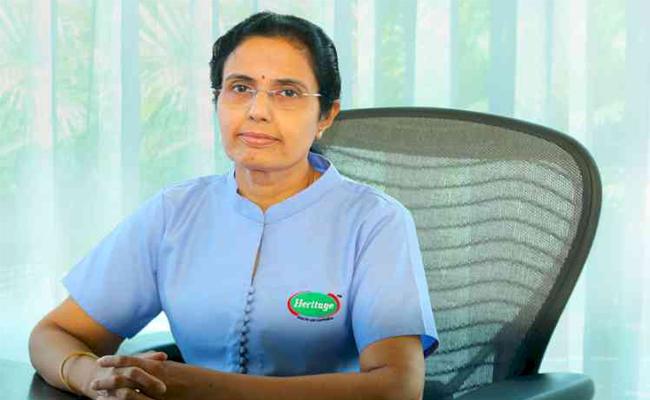 Nara Bhuvaneshwari Devi's recent public appearance has raised eyebrows due to her incomplete knowledge, inaccurate calculations, and manipulative rhetoric. She emerged to protest her husband Nara Chandrababu Naidu's arrest in the Skill Scam case.
During her speech, she claimed to run a company where selling just 2% of shares would result in a whopping Rs 400 Cr windfall, asserting that her family had no need to engage in any scams to siphon public funds.
However, what left many astonished was her assertion that her Heritage Company was worth Rs 20,000 Cr. Unfortunately, the facts tell a different story. As of September 21, 2023, publicly available data indicates Heritage's market capitalization is Rs 2,181 Cr, with total revenue for 2023 at Rs 3,241 Cr and a net worth of Rs 756 Cr. Given these figures, Bhuvaneshwari's claims appear either intentionally misleading or profoundly ignorant of her own company's financial standing.
Setting aside the financial intricacies, it's essential to scrutinize other aspects of her claims. She proudly declared her independence from public funds, yet Heritage is a publicly traded company, making it directly involved with public money.
There are also serious questions about the financial activities of the TDP during the last four years when they were in the opposition.
Huge sums of money seemingly went toward allied TV channels, lawyers, Janasena's upkeep, political strategists like Robin Sharma and team, social media activists, and more. The source of this funding and the TDP's total financial reserves should be transparently disclosed.
Additionally, the origin of the funds seen in the "Note For Vote" case and how the TDP managed to acquire 23 MLAs and 3 MPs during their rule from 2014 to 2019 remain open questions.
There are also allegations that the TDP sponsors Pawan Kalyan's Varahi Yatra. The origins of the funds used by the TDP in the past four years demand investigation by relevant authorities and could potentially reveal further information.
Finally, Bhuvaneshwari's self-certification of Naidu's innocence raises concerns about the role of the courts. Courts are responsible for impartially adjudicating cases based on evidence and facts and they will do that.
The Skill Scam alone is estimated at around Rs 300 Cr, with more such cases reportedly in the pipeline. It remains to be seen what portion of Bhuvaneshwari and her family's business ventures would compensate for the total value of public money involved in these scams.
Usha Chowdhary