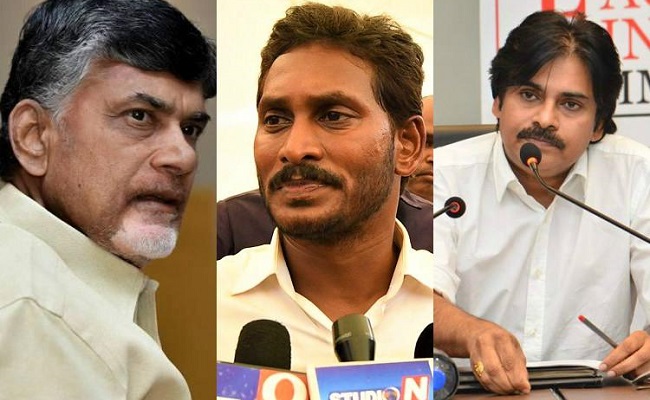 The upcoming 2024 elections have become a deciding factor for the future of TDP. Though Chandrababu has been showing artificial confidence, his actions say that he is holding a lot of fear as the election days are coming closer. Though he is getting some solace momentarily with the writings of his allied media, he is not getting rid of Janganophobia confidently.
Though Chandrababu was happy for a moment with the response he got for Mahanadu, he lost the smile on his face after he noticed that there was a bigger response for YSR's Plenary.
With the initial response to Mahanadu he thought of keeping Janasena at bay without getting into any alliance. But within no time, as he realised that his individual strength is not sufficient to face the election, he's working towards an alliance with janasena.
While Chandrababu is unable to get rid of Jaganophobia (fear of Jagan), Pawan Kalyan is suffering from megalomania, a delusion about one's own power or importance (typically as a symptom of manic or paranoid disorder).
Yes, Pawan feels that he can change the face of AP politics by uniting all the anti-forces of YSRCP and leading the group. He always wrongly assesses his strength and lives in a state of 'na gha ka na ghat ka' between the thoughts of alliance with BJP and TDP.
TDP has nothing in hand right now to take on YSRCP. For sometime the party used the incident of Gorantla Madhav and then Chandrababu's shake hand with Modi in Delhi to indoctrinate people with anti-YSRCP message and pro TDP feelers.
But here BJP knows that TDP cannot breathe without any alliance. At the same time BJP high command at the Center is clear that their party cannot have a firm hold in AP unless TDP is permanently killed. So, BJP is playing mind games by keeping everything at a distance.
On the other hand TDP is projecting its weakness at the voters by conveying that TDP has to get into alliance with BJP and Janasena to bulldoze Jagan Mohan Reddy. This is giving a signal that Jagan's government is strong and there are ample chances for it to come into power again.
The point to be underlined is that those who are attacking Jagan Mohan Reddy verbally by sitting in Hyderabad and USA are not the real voters. The voters are those who are taking welfare schemes from the government which are intact with YSRCP as per the ground surveys.
Pawan Kalyan is saying that he wouldn't allow the split of anti-Jagan votes, with his political strategy. What's that mean? Is Jagan going to continue as CM again?
Pawan's lack of intelligence due to megalomania and Chandrababu's fear due to Jaganophobia are becoming advantageous to Jagan Mohan Reddy.
Usha Chowdhary