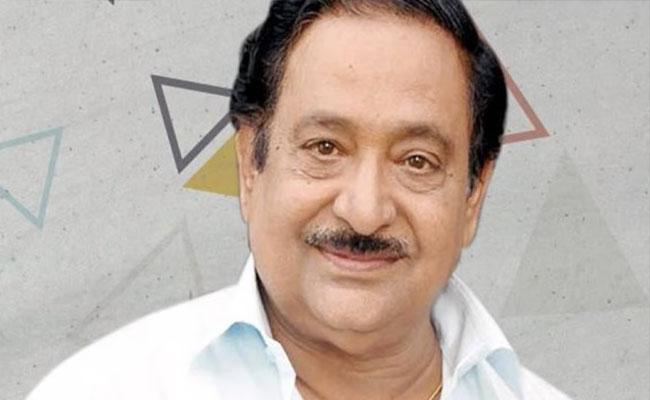 Chandra Mohan, a distinguished hero and character artist, portrayed a wide array of roles in over 900 films has breathed his last couple of days ago.
Recognized as a textbook example of acting, he earned praise from directors of the bygone era, including Dada Saheb Phalke Awardee K Vishwanath.
In his octogenarian years, Chandra Mohan succumbed to health-related issues, drawing attention to the absence of senior Tollywood heroes, such as Balakrishna, Chiranjeevi, Nagarjuna, or Venkatesh, paying their respects at his funeral.
Despite residing in Chennai for most of his life, he had recently moved to Hyderabad, where he passed away. Surprisingly, apart from a handful of actors like Murali Mohan, Brahmanandam, Tanikella Bharani, Jayasudha, Kavitha, Annapurna, Divyavani, and Paruchuri Gopalakrishna, no senior star was present to bid farewell.
Chiranjeevi, who shared the screen with Chandra Mohan in films like "Chantabbai," expressed his condolences through a tweet.
Balakrishna, co-starring with Chandra Mohan in movies like "Aditya 369," remembered their scenes, still popular on YouTube. He is silent on Chandra Mohan's death.
Venkatesh's film "Ganesh" featured a notable character played by Chandra Mohan, contributing to the movie's success. He is tightlipped to give a tributel.
Nagarjuna had multiple collaborations with Chandra Mohan like "Ninne Pelladatha". He is not around Chandra Mohan's death news.
Mahesh Babu also worked with Chandra Mohan in the films like "Dookudu", but he is also calm. He didn't even tweet.
Despite their professional connections, none of these stars attended Chandra Mohan's funeral.
Mohan Babu, busy shooting in New Zealand, released a video explaining his inability to attend, acknowledging his successful collaboration with Chandra Mohan. Their combination in "Rayalaseema Ramanna Chowdhary" is unforgettable.
Vishnu Manchu, the present MAA President, also in New Zealand, expressed his grief in a tweet. But he would have made it a point to pay final tribute to Chandra Mohan on behalf of MAA in grand manner by placing the body at Film Chamber for public visit. Nothing of that sort happened.
The situation raises concerns about potential biases, suggesting that only the film personalities from specific castes like Kamma or Kapu receive a greater number of visitors during their passing.
This observation extends to government recognition, as seen in the contrasting treatment of Telangana government to Kaikala Satyanarayana during his funeral and the oversight of Phalke Awardee K Vishwanath and legendary lyricist Sirivennela Seetarama Sastry's funerals. Even Jamuna's final journey was dull with no attention from TFI or the government.
It is also surprising to note that no government ever honored Chandra Mohan with a 'Padma' award in spite of his impressive marathon career.
Madhunandan Akkishetty