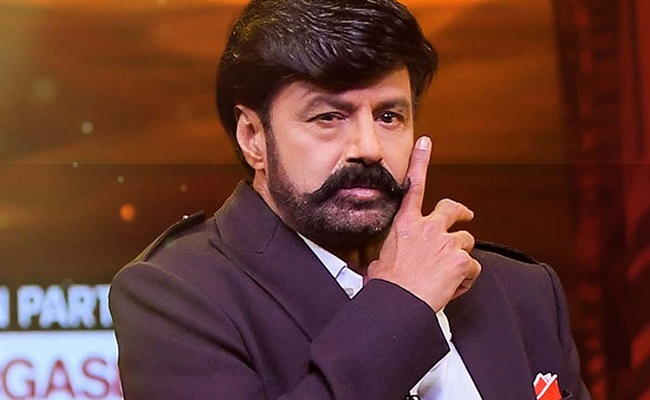 What one feels to be a boon turns out to be a curse in due course of time, sometimes. Kammas owned film actor Balakrishna as their identity after NTR.
As a result the rest of the communities started disowning him slowly. Kammas made him a demigod and he started feeling that he's beyond any human being living on this planet.
With his self centric nature he shows off his verbal diarrhea with no control on what he is talking. He has no social consciousness but utters anything that he wants.
Once upon a time when TDP was in power, he said while speaking in an audio event that a man whenever sees a girl should either kiss or make her pregnant.
When this issue was raised in Assembly, as a ruling party MLA, he recklessly shouted "ye! koorcho" (hey! sit) at the one who raised this issue. That's his arrogance.
Right now his party is not in power. But still he maintained the same arrogance in taking the names of SV Rangarao and Akkineni though there is no relevance, during the success event of Veera Simha Reddy and pulled the wrath of Kapus and the general public.
While Chandrababu Naidu is struggling a lot to take the support of Kapus in the coming election by developing an alliance with Janasena, Balakishna is making a mess with his nonsensical talk.
Kapus are now questioning why he took the name of SVR? They are demanding an apology. Will this narcissist respond to this demand is the question.
"Balakrishna and his nephew turned son-in-law Lokesh are the curses of TDP now. Everything will be fine as long as they are tight lipped. Otherwise, they spread the filth of their senseless talk everywhere. We know this fact, but we cannot openly state this", said an NRI from Kamma community in the condition of anonymity.
"Balakrishna talking without any control over his tongue may develop a rift between the Kapus and Kammas. He needs to apologize for taking the name of SVR'', said a Kapu leader in a television talk.
Akkineni fans representative said, "What if we call 'Baligaadu-Bodigaadu'? Our culture won't allow to call him so. He should apologize for uttering 'Akkineni-Thokkineni'".
We know that Akhil Akkineni and Naga Chaitanya also condemned Balakrishna's derogatory talk in a press note.
The bottom line is that the majority of people distanced Balakrishna from their hearts as Kammas cornered him. That's the reason for not getting the collections for Veera Simha Reddy or par with Waltair Veerayya though both dealt with similar stories.
If Balakrishna continues showing his same arrogance, then he, his party and his community will also be cornered by the rest of the people.
Ramesh, New Jersey