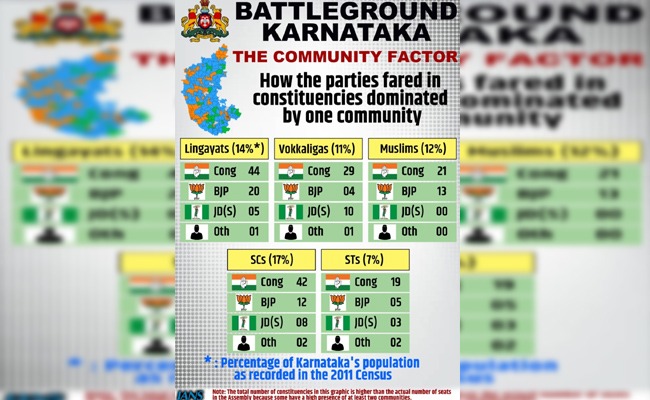 When former chief minister and Lingayat strongman B.S. Yediyurappa stated in BJP's national executive meeting that Karnataka elections can't be won with the name of Prime Minister Narendra Modi, the party didn't take a note of it.
Yediyurappa had stated that the opposition parties especially Congress in Karnataka are strong and workers needed to reach out to the people, and strength of opposition can't be ignored. The saffron party considered his statement offensive and snubbed him. It didn't allow him to undertake a state-wide tour.
The party realised the damage at the last minute and brought Yediyurappa to the forefront. But, it went on making self-goals one after the other, like - pitching in 72 new faces, denial of tickets to senior party leaders, humiliation of Lingayat candidates, experiment with quota of reservations for SC, ST and OBCs and attempt to pit other communities against Muslims.
The tone of Union Home Minister Amit Shah and BJP President J.P. Nadda that if Karnataka wants development projects, the people need to support BJP didn't go down well with masses. Sonia Gandhi's effective rebuttal stating that Kannada people need not be at the mercy of BJP for their development seemed to have endeared the people.
Though, all media and BJP predicted that the ban proposal on the Bajrang Dal was a self goal by Congress, it turned out to be the biggest self-goal by BJP later as it tried to make it a big controversy and link it to lord Hanuman, revered by all Hindus.
The only solace to BJP was that it could defeat former chief minister Jagadish Shettar on his home turf. But, the damage was done. The Lingayat vote-bank once firmly stood with the BJP and gave it core strength, slipped away.
Congress managed to wrest 44 seats in Lingayat-dominated constituencies. BJP could only get 20 seats.
The Vokkaliga community which firmly stood with JD(S) shifted to Congress as D.K. Shivakumar was projected as the CM candidate. Shivakumar's appeals to the community and unmatched hard work yielded results. PM Modi and Amit Shah's roadshows, rallies and their promises did not strike chord with the people.
Congress won 29 seats in Vokkaliga dominated constituencies and BJP could only get four seats. BJP National General Secretary and a prominent Vokkaliga face, C.T. Ravi, suffered a humiliating defeat on his home turf. The BJP lost all five seats it won in the communally polarised Chikkamagaluru district. BJP lost two seats in Kodagu district, the region which was considered a bastion of BJP.
The people from SC, ST and OBCs, who shifted to BJP over the years especially in north Karnataka, this time voted for the Congress. The prominent Dalit face, Govind Karajol (BJP), also suffered a humiliating defeat.
Congress won 42 seats in SC-dominated north and south Karnataka regions, while BJP could only get 12 seats. In ST-dominated regions, Congress won 19 seats while BJP could manage only five seats.
Muslims with conviction voted for Congress without giving any leverage to JD(S) and SDPI.
Dingaleshwara Swamji, prominent Lingayat seer, had warned BJP that the party would be washed away in the tears of Yediyurappa. He had made the statement when Yediyurappa was asked to step down from the post of CM. He had further stated that if BJP wants to build itself in future, Yediyurappa himself won't be able to do it like he did it earlier. His words are coming true, according to experts.
BJP has lost its base among all prominent communities in Karnataka. After the retirement of Yediyurappa, there is no mass leader who can appeal to all sections of society. The saffron party has an uphill task for its survival in the state.
With the Hindutva card falling flat, BJP will have a herculean task to find a leader to match the caliber of Siddaramaiah and Shivakumar.
However, Pralhad Joshi, Union Minister for Mine, Coal and Parliamentary Affairs, had stated that the party is in politics for ideology and not just to win elections. National General Secretary B.L. Santhosh, who is said to be the person who led the BJP to disaster, stated that the party will make a strong comeback.