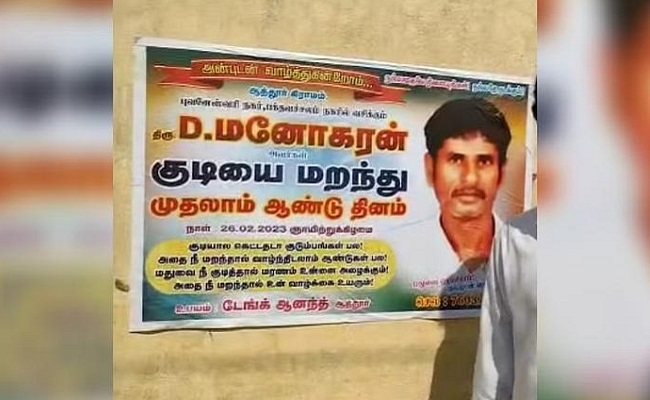 A year after an alcohol addict decided to give up liquor consumption, a Tamil Nadu resident has celebrated an entire 'dry year' of his life by putting up posters.
Manoharan, 52, was addicted to alcohol for over 30 years. On February 26, 2022, he resolved to get rid of his drinking habits.
After successfully managing to stay away from his indulgence for 12 months, Manoharan, who hails from Bhathavalchalam Nagar in Palur, celebrated the achievement on Sunday by pasting posters wherein he also noted the benefits of quitting liquor.
Manoharan told the media persons that in the last 32 years, there was not a single day when he did not consume alcohol.
"I used to spend a minimum of Rs 400 per day on liquor... and even sold a piece of land," he said.
Talking about the idea behind putting up posters, Manoharan said he wanted to share the benefits of saying goodbye to drinking with the society, including his friends and relatives.
He pasted posters across the walls in his native village. The expenses involved in designing and making the posters were borne by a neighbour who wanted to encourage the "good efforts" of Manoharan.