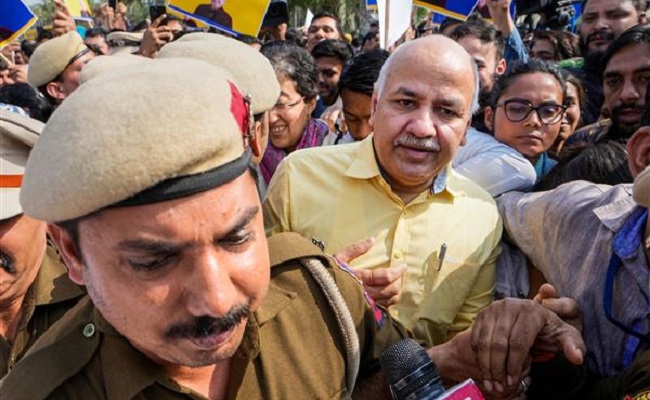 Delhi Deputy Chief Minister Manish Sisodia was on Sunday arrested by the CBI in the excise policy scam after a day of political drama.
Sisodia, who reached the Central Bureau of Investigation (CBI) headquarters at Lodhi Road in south Delhi at around 11.10 a.m. after visiting the Rajghat for prayers, was questioned for over eight hours before being arrested.
A CBI source said the agency will present Sisodia at the Rouse Avenue Courts on Monday and seek two weeks' custodial remand as it needs to confront him with the co-accused, as well as documentary and digital evidence.
Sources claimed that Sisodia was questioned about the documentary, electronic and digital evidence which the CBI have gathered during the probe in the scam.
"He has been accused of destroying evidence and being the mastermind of the excise policy scam," a source said.
Delhi Chief Minister Arvind Kejriwal termed his deputy's arrest "dirty politics".
"Manish is innocent. His arrest is dirty politics. There is a lot of anger among the people due to the arrest of Manish. Everyone is watching," he said in a tweet.
In the same tweet, he said that people understand everything. "People will respond to this. This will boost our spirits further. Our struggle will get stronger," Kejriwal said.
Sisodia was earlier asked to appear before the CBI on February 19, but he had sought deferment of his questioning, citing the ongoing Budget exercise. The CBI accepted his request and issued him a second notice to join the probe on February 26.
The arrest of the Aam Aadmi Party (AAP) leader, who has alleged that the BJP wants to get him arrested to stop the development of Delhi, came after a day of political drama.
Ahead of his questioning, his AAP on Sunday alleged that its leaders were being put under "house arrest".
The Delhi Police had put barricades at Lodhi Colony roads which leads to the CBI headquarters and no one was being allowed there.
Apart from this, the police had also put barricades outside Sisodia's house and office, and had deployed extra force to stop people going there.
At Lodhi Colony, even the media was stopped by the police personnel posted there.
The RAF was also deployed at the CBI office on Sunday evening in wake of Sisodia's arrest.
Ahead of leaving for the CBI office on Sunday morning, Sisodia had tweeted that he was going to join the probe of the CBI once again, and will fully cooperate with the agency.
"If I will spend a few months in jail, I don't care. We are followers of Bhagat Singh. He (Bhagat Singh) even chose to be hanged," he posted.
In response, Kejriwal said that the whole party will welcome Sisodia when he comes out of jail.
"I pray to God that you come out of jail soon, we will be eagerly waiting for you. We the parents, children and Delhiites.
"God is with you Manish. The wishes of lakhs of children and parents are with you. If you are going to jail for society and country, it will be a proud moment. You come out of jail, we will be waiting for you," Kejriwal tweeted.
Before joining the probe, Sisodia went to Rajghat along with other party leaders Sanjay Singh and Saurabh Bhardwaj.