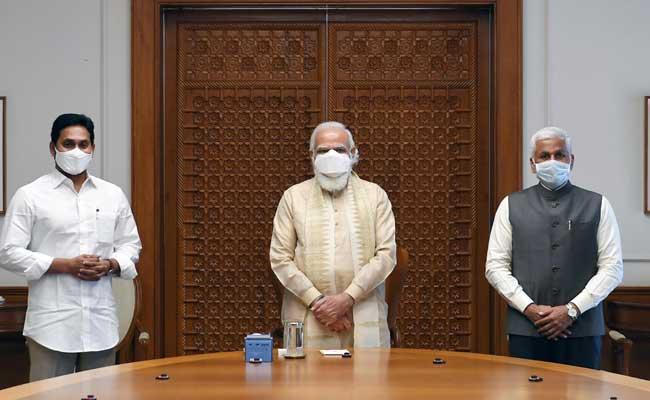 YSRC party would have no objection joining the NDA government at the Centre if the latter granted special category status to Andhra Pradesh in any form that it deemed appropriate.
This was reportedly made clear to Prime Minister Narendra Modi by YSR Congress party president and chief minister Y S Jagan Mohan Reddy during the 40-minute meeting they had in the meeting.
Sources in the YSRC said it was purely a one-on-one meeting between Jagan and Modi in the internal chamber of the Prime Minister and Sai Reddy had joined them only at the end for a photo-op. Modi reportedly extended a formal invitation to Jagan party to join the NDA.
Jagan is learnt to have told Modi that in principle, YSRC had no hassles in joining the NDA government.
"But I would lose face back home, if I join the NDA unconditionally. I have promised to fetch special category status to the state and fought the elections on this plank. If I give up the demand and join the NDA, it will be politically counterproductive to my party," he reportedly told Modi.
The YSRC chief told Modi that he would accept the special category status in whatever form it was given.
"But we need a written commitment from the Centre in this regard. That would also enhance the prestige of the Prime Minister in our state," he is learnt to have told him.
While Modi could not give him any instant commitment, Jagan reportedly told him that there was no hurry in taking the decision.
"The ball is now in Modi's court. If the Centre wants us to be part of the NDA, he will get back to us," a YSRC source said.