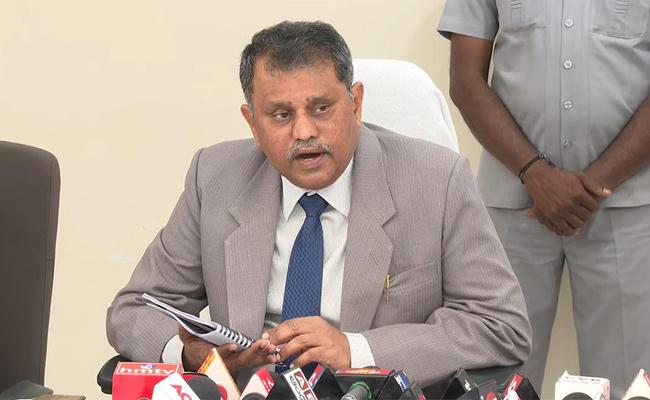 A Constitutional crisis of sorts is said to be prevailing in Andhra Pradesh, with YSR Congress party government led by chief minister Y S Jagan Mohan Reddy caring a damn for the orders of State Election Commission on taking action against erring district collectors and police officials.
Normally, whenever elections are held across the state, the entire official machinery comes under the purview of the election commission as the model code of conduct comes into force immediately from the moment election schedule is announced.
If it is general election, all the officials, including chief secretary and director general of police come under Election Commission of India and if it is the case of local body elections, the State Election Commission (SEC) who gains control over the state administration.
So, when a constitutional authority like ECI or SEC issues an order, it has to be implemented. Accordingly, when state election commissioner N Ramesh Kumar issued the order, the election process for the local bodies has come to the halt.
Whether Ramesh Kumar is justified in issuing the orders or not is a different matter, but as per the norms, the officials have to implement his orders. As such, the election process has been postponed. But they blatantly ignored his orders on transfer of collectors and action against police officials.
As per the orders of Ramesh Kumar, district collectors and superintendents of police of Guntur and Chittoor districts, which reported large scale violence during the nomination process for local body elections, have to be transferred.
Similarly, he ordered suspension of inspector of police in Macherla police station in Giuntur district, where there were attacks on Telugu Desam Party former MLAs Bonda Umamaheshwar Rao and Buddha Venkanna last week.
The SEC also ordered transfer of deputy superintendents of police of Srikalahasti and Palamaner in Chittoor district, besides inspectors of Tirupati, Palamaner, Tadipatri and Rayadurgam police stations for their alleged failure in preventing violent attacks on the pollical party activists.
But with Jagan openly questioning Ramesh Kumar's authority, the official machinery just ignored the SEC orders on transfer of collectors and police officials.
The chief secretary ignored Ramesh Kumar's orders in transferring of collectors, while Director General of Police Gautam Sawang sitting on taking action against the police officials.
Since Jagan himself argued that with his party having 151 MLAs in the assembly, it is the chief minister's word that will prevail and the SEC cannot use his discretion, the official machinery, too, is following his orders and ignoring the SEC directions.
Analysts say this is nothing but a Constitutional crisis. It remains to be seen how this crisis is resolved. Whether the Governor would intervene or courts would take up the issue has to be seen.
CLICK HERE!! For the In Depth Updates on all the OTT Content