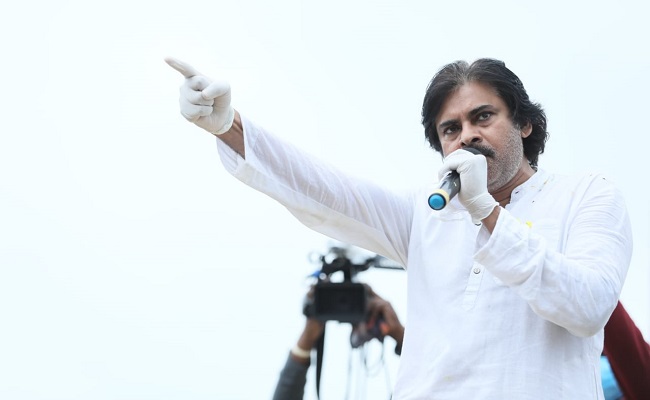 It is a known fact that all is not well between the Bharatiya Janata Party and its alliance partner Jana Sena Party in Andhra Pradesh.
Both the parties are following their respective paths in fighting against the Jagan Mohan Reddy government and there has not been a single instance of these parties chalking out a joint action plan till now.
Yet, neither of the two parties has come out openly about the strained relations and are posing as if the alliance is still continuing. But the statements of the leaders of both the parties indicate that the alliance is on the rocks.
Jana Sena Party chief Pawan Kalyan initially announced that his party would contest the by-election to Badvel assembly seat in Kadapa district, but the BJP did not respond to it positively.
When YSR Congress party announced the name of Dasari Sudha, widow of deceased MLA G Venkata Subbaiah, the Jana Sena chief declared that his party would opt out of the contest respecting the tradition of not fielding candidates against spouses of deceased MLAs.
But much to the shock of Pawan, the BJP announced that it will contest the Badvel bypoll. BJP state president Somu Veerraju said the party would field its candidate in the by-poll as contesting elections is part of the democracy.
He refused to agree with the decision of Pawan Kalyan to stay away from the contest on the pretext of tradition. Not only that, he decalred that the BJP would also invite Pawan Kalyan to campaign for the candidate in the by-poll.
Veerraju went on to say that the BJP would like to continue alliance with the Jana Sena in future as well. He refused to react on the reports that Pawan might desert the BJP and join hands with the TDP soon.
"As of now, the alliance is there and we hope it will continue in future," he said.
Now, the question is whether Pawan will campaign for the BJP candidate in Badwel, after deciding to stay away from the contest.
"This is nothing but an attempt by Somu Veerraju to provoke the Jana Sena chief, knowing fully well that his party is against the contest. If Pawan rejects the BJP request, it is a clear indication that the alliance is going to collapse soon," an analyst said.