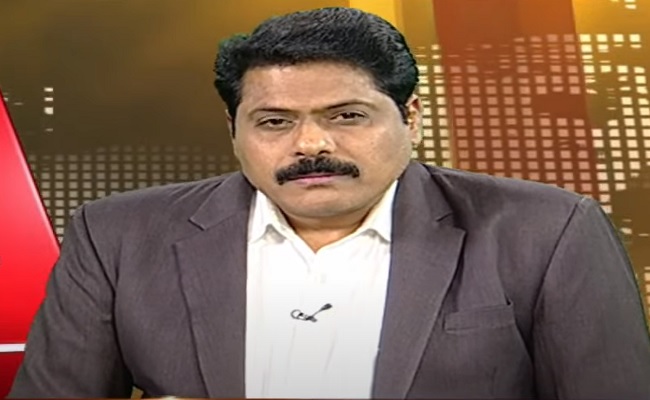 Popular television news anchor Parvathaneni Venkata Krishna, known for triggering controversies wherever he works, is now facing fresh allegations of dominating ABN-Andhra Jyothy television channel, where he is a prime anchor.
According to reports coming from inside, Venkata Krishna is gradually spreading his tentacles in the entire channel, thereby establishing his own personal empire there. He is said to be hounding out whoever he feels is a hurdle for his domination.
As part of his strategy, Venkata Krishna is now said to be conspiring to kick out input editor Narasimha Rao. He is caring a damn even for channel MD Vemuri Radhakrishna who is trying to stem the rot in the channel.
Since Venkata Krishna has occupied the entire prime time of the channel, Narasimha Rao has been confined to mostly evening debates. In fact, Narasimha Rao, who had been doing at least four major shows like ABN News Maker, Morning Issue, Headlines Show and Special Edition for the last three years, had not been appearing on the screen for the last two months.
Sources said the sudden disappearance of Narasimha Rao was because of the dominance of Venkata Krishna. There are also reports that Venkata Krishna has been directly issuing instructions to field reports without consulting Narasimha Rao, who is the actual input editor.
It is learnt there were heated arguments between the two and video clips of this infighting went viral in the media circles. This has lent credence to the rumours that Venkata Krishna is trying to get Narasimha Rao sacked and replace him with another person of the same community.
The influence of Venkata Krishna on the entire team was so much that during the recent sensational Jubilee Hills minor girl rape case, he influenced his reporters to see that the name of the pub where the girl was abducted was not revealed in the channel, though all the other channels prominently highlighted its name.
The reason is that Venkata Krishna is believed to be one of the partners of the pub. The crime reporter, who did not report the name of the pub under the influence of Venkata Krishna, was sacked, but was taken back after a week or 10 days. This shows how much clout this gentleman has in the channel!
It may be recalled that Venkata Krishna had joined ABN-Andhra Jyothy in April 2020, after he was removed from the post of director and editor-in-chief of news channel AP 24X7, following differences with the management.
Majority of the management members of AP 24X7 were not happy with his blatant pro-Telugu Desam Party stand. Added to this, the crisis in the media field because of the lockdown also hastened his exit from the channel.