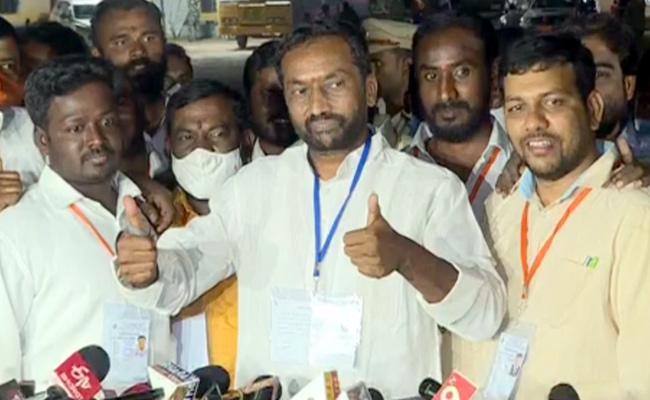 There seems to be more to the joining of prominent Kapu leader from Guntur and former IAS officer Thota Chandrasekhar in the Bharat Rashtra Samithi of Telangana chief minister K Chandrasekhar Rao than what meets the eye.
Bharatiya Janata Party legislator from Dubbak M Raghunandan Rao on Tuesday alleged that KCR had shown unusual love towards Thota Chandrasekhar and made him the Andhra BRS president overnight, because of the underhand dealing for a huge real estate property in Hyderabad.
Raghunandan Rao said KCR had given clearance for handing over a 40-acre land at survey no. 78 at Miyapur, worth nearly Rs 4,000 crore to Aditya Construction Private Ltd owned by Thota Chandrasekhar.
"The land originally belonged to the state government, but former chief secretary Somesh Kumar, in collusion with collector Amoy Kumar, handed over the land to Thota Chandrasekhar under the directions of the chief minister," the BJP leader alleged.
He wondered why the state government had not challenged it in the Supreme Court, if there was a dispute over the piece of land.
He reminded that in case of eight acres of disputed land involving Musaddilal group owner Sukhesh Gupta, the government had filed an SLP in the Supreme Court.
"When it can challenge Sukhesh Gupta case in SC for eight acres, why didn't the government challenge the 40 acres Miyapur lands case?" he asked.
Raghunandan Rao alleged that it was Thota Chandrasekhar had been bearing the entire expenditure of KCR's public meeting at Khammam as a quid pro quo deal for granting favour for the Miyapur lands.
"KCR has a lot of love for officials from Bihar. As a part of that, an officer from Bihar was appointed as DGP. Andhra people who were seen as thieves in the past have now become his family members and relatives," he criticised.