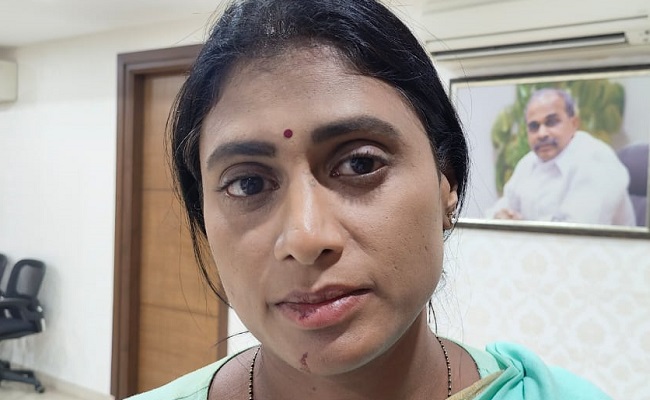 Telangana police are understood to have acted roughly with Andhra Pradesh chief minister Y S Jagan Mohan Reddy's sister and YSR Telangana party president Y S Sharmila, while arresting her in Warangal on Monday.
Sharmila, who was forcibly shifted to Hyderabad, appeared before the media at her Lotus Pond residence with bruises on her face and slightly bleeding lips.
Though she did not reveal what exactly had happened to her, her media team has revealed that she was manhandled by the police in the process of arresting her at Shankaram Thands of Chennaraopet mandal in Narasampet assembly constituency.
It was in fact the Telangana Rashtra Samiti workers who had attacked her convoy, destroyed the vehicles and set fire to the caravan which was partially burnt. Naturally, her followers retaliated.
But the police arrested Sharmila and shifted her to Hyderabad, on the charges that the padayatra being conducted by her could create law and order problems in the district.
"When she questioned why she was being arrested instead of those who attacked her convoy, the police used force to push her into the vehicle. Some women police people held her by her face and used brute force to push her, resulting in bruises on her face," a YSRTP follower said.
Sharmila alleged that the police were watching the attack as mute spectators and questioned why the police were not arresting those people who were responsible for the attack.