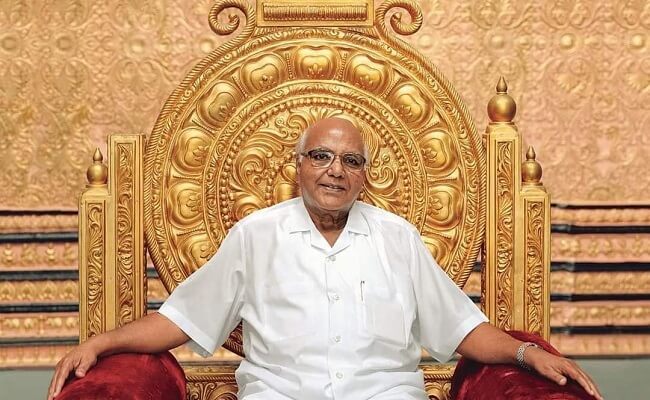 Cherukuri Ramoji Rao, the one name that had become synonymous with the media power in the two Telugu states, needs no introduction.
Since the beginning Ramoji Rao had been using his media power to reap financial and other benefits.
Be it going with NTR and TDP in 1982 or going with Chandrababu Naidu in 1995, writing against the Congress leadership for all the time, everything has a political agenda.
It was Ramoji Rao and his Eenadu which gathered publicity for NTR with photographs of NTR in towel bathing on the roadside.
Now, the same Ramoji Rao continues to beat Y S Jagan Mohan Reddy below the belt to keep Chandrababu Naidu in power.
Not because Ramoji Rao has any special love for Chandrababu Naidu, but the Eenadu group gets major share of the government revenue and kickbacks from the ministers only when Naidu is in power.
With the Jagan Mohan Reddy government filing a special leave petition in the Supreme Court in the Margadarsi Chit Funds case, Ramoji Rao had come up with a venomous and vindictive report on front page against one of the oldest cases involving Jagan.
This report has no provocation except the Jagan Mohan Reddy government filing the SLP in the court, which was posted for next hearing on September 19.
The case filed by former Congress MP, Unvavalli Arun Kumar, was earlier silently quashed by the Telangana High Court, days before the State was bifurcated in 2014.
There was no information to the State government nor was there any information to the petitioner, Undavalli on quashing the case.
Shocked at this development, Undavalli filed a special case in the Supreme Court, to reopen the Margadarsi Chit Fund case, where Ramoji Rao had collected depositions from the people in violation of the RBI guidelines.
With the Jagan Mohan Reddy government filing the SLP, Ramoji Rao took two pages to spit venom on Jagan Mohan Reddy.
Ramoji Rao should know that the 2020s are not the same as that of the 1980s, where his lies were projected as truth.