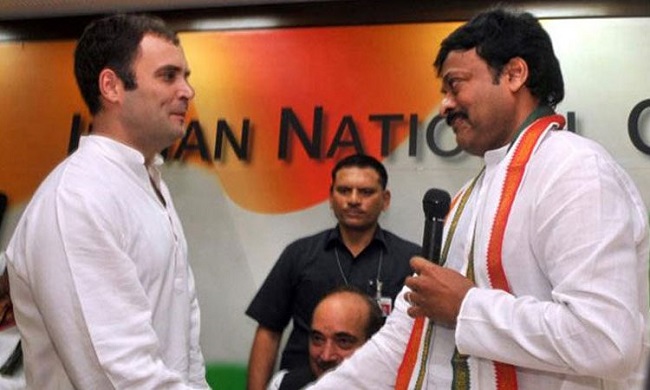 The Congress party in Andhra Pradesh, which has already been on ventilator since the bifurcation of the combined state in 2014, is said to be desperate to come alive at least by 2024 assembly elections in the state.
According to the reports from New Delhi, the Congress high command has begun concentrating on the party affairs in Andhra Pradesh, which have come to a virtual halt in the last seven years.
On Tuesday, Congress leader Rahul Gandhi, who is likely to take over as the party president soon, held talks with the party leaders from Andhra Pradesh, including AICC in-charge of Andhra affairs Oomen Chandy.
He reportedly enquired with the Congress leaders as to why the party has become so inactive and what could be done to breathe life into the party.
The leaders told him that the party desperately needs a dynamic and dashing leader who can not only bring enthusiasm in the cadre, but also attract the masses.
Then Rahul made enquiries about former Union minister and megastar Chiranjeevi, who had merged his Praja Rajyam Party with the Congress in 2012, and later withdrew from active politics much before the completion of his Rajya Sabha term in 2018.
Chandy told Rahul that Chiranjeevi, though had not quit the Congress, had been staying away from the party activities and was completely confined to films and social service activities.
He even explained about his recent comments about the megastar that the latter was not active in the party.
He also brought to Rahul's notice the speculations in the media that Chiranjeevi might be nominated by ruling YSR Congress to Rajya Sabha next year, while the BJP is also desperately wooing him into the party.
Rahul suggested that it would be better to convince Chiranjeevi to stay back in the Congress and utilise his services for the party by entrusting him a key responsibility like PCC chief. But Chandy told him that the megastar had already turned down the PCC chief post.
Under these circumstances, Rahul Gandhi said he would personally speak to Chiranjeevi and request him to rejuvenate the party cadre by taking active part in the party activities. He said he would also offer the megastar a key position in the party.
"At present, Chiranjeevi is the only mass leader who can counter Jagan Mohan Reddy in AP. It is the right time he takes a decision in this regard," Rahul opined.
Reports from New Delhi said Oomen Chandy would soon come to Hyderabad to hold talks with Chiranjeevi and carry his message.