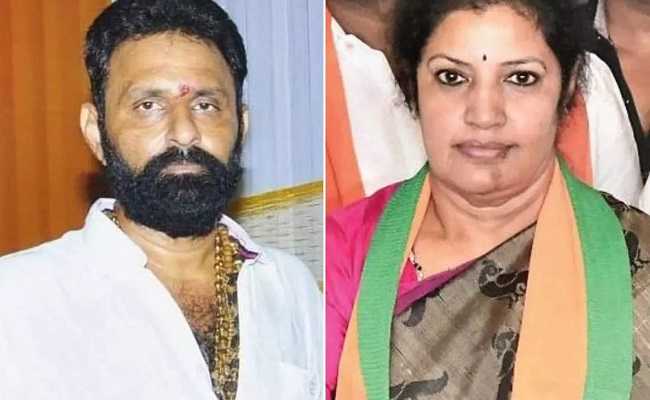 Is former Union minister and Bharatiya Janata Party national general secretary Daggubati Purandeshwari keen on contesting assembly elections from Gudivada constituency in Krishna district?
Speculations are going on in a section of media about this possibility.
Apparently, Purandeshawari's interference in certain developmental works in Gudivada which were resisted by sitting YSR Congress party MLA Kodali Venkateshwara Rao alias Nani, has led to this speculation.
According to these reports, Purandeshwari has decided to nurture Gudivada constituency which was represented by her father – actor and former chief minister late N T Rama Rao twice in the past.
Being the daughter of NTR and her image in politics might prove advantageous to her, compared to Nani whose aggressive attitude has brought him a bad name. That is why the BJP leadership thinks Gudivada is a safe seat for her.
Secondly, if Purandeshwari contests the polls, there is a possibility that entire NTR family would stand by her.
Even the TDP would not dare field a strong candidate against her, as she happens to be the sister-in-law of party president N Chandrababu Naidu and elder sister of party MLA Nandamuri Balakrishna.
Since Naidu also wants the defeat of Kodali Nani at any cost, he would not like the opposition vote to split that would only benefit the YSRC in Gudivada.
At the same time, if Purandeshwari contests from Gudivada, it would have an impact on all the adjacent constituencies in the district. Though the BJP might not find good candidates there, it would definitely help the TDP to a large extent, sources said.
That is precisely why Nani has started making aggressive attacks on Purandeshwari in the recent past.
He even warned her against poking her nose in the developmental activities like construction of flyover on the railway gates.