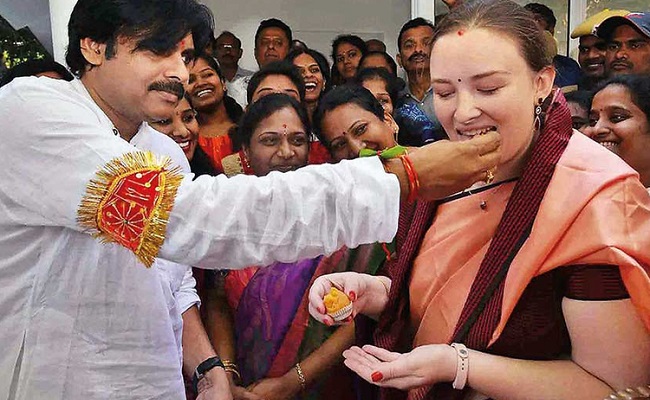 If the speculations doing rounds in the film circles are to be believed, Jana Sena Party president and Tollywood hero Pawan Kalyan's wife Anna Lezhneva is learnt to have shifted to Singapore along with her children in the name of studies.
According to these reports, Anna had reportedly been staying in Russia for a few months, before shifting to Singapore for ensuring good education to her children.
It is not immediately known whether it is only for a specific period whether or she would settle down there along with kids.
But one thing is clear. Pawan wants to keep his children away from the film industry and also political field. And that could be the reason why he decided to shift his family to Singapore.
This has also led to a criticism as to why Pawan Kalyan, who had been in the forefront in attacking YSR Congress party president and Andhra Pradesh Y S Jagan Mohan Reddy for compulsorily introducing English medium in the government schools.
He was one among the many opposition leaders who strongly resisted Jagan's decision to provide quality English medium education to the poor people to improve their educational standards.
They have been demanding that Telugu should continue to the medium of instruction in the government schools.
It was obvious that introduction of English medium education in the government schools would affect the interests of the corporate schools and that is the reason why these leaders are objecting to Jagan's decision.
But these leaders have all their children in the private English medium schools for their better future. And Pawan Kalyan, too, following them.
Well, it is his personal decision, but why should one be so hypocritical?