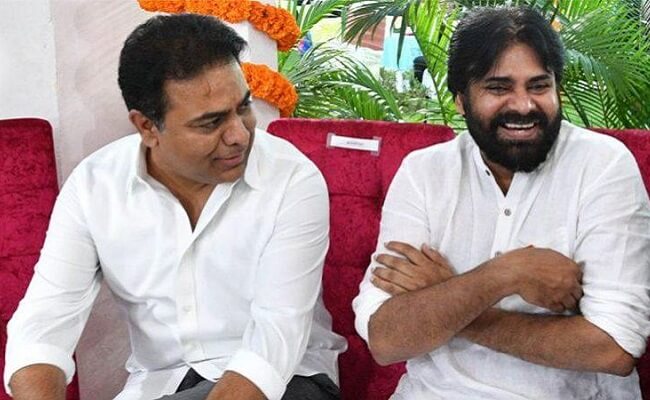 For some strange reasons, the pro-Telugu Desam Party media has been making a campaign for the last few days that Jana Sena Party chief and power star Pawan Kalyan is being lured by Bharat Rashtra Samithi president and Telangana chief minister K Chandrasekhar Rao.
It all started with a recent article written by Andhra Jyothy managing director Vemuri Radhakrishna in his column that KCR had offered a package of Rs 1,000 crore to Pawan Kalyan to keep away from the TDP in Andhra and support the BRS in Telangana.
The article has virtually created a huge gap between the TDP and Jana Sena, which had otherwise been trying to forge an alliance in Andhra Pradesh ahead of the next assembly elections.
The Jana Sena activists and Pawan Kalyan fans have been attacking not only Andhra Jyothy, but also the TDP for indirectly planting such stories. This led to the talk that the alliance between the two parties might be on rocks.
Against this backdrop, another rumour has surfaced on the social media stating that Pawan Kalyan is going to meet BRS working president and Telangana state industries minister K T Rama Rao in Hyderabad soon.
The last time KTR had met Pawan Kalyan was at the pre-release event of the latter's film Bheemla Naik, where the former said he was a great fan of the power star. If both of them really meet now, it will be a big sensation.
The Jana Sena Party has no big stakes in Telangana and Pawan Kalyan had never made any major attack on the BRS or KCR. Yet, both the parties have divergent political interests.
Under these circumstances, if Pawan meets KTR, it might be a sort of proof to the speculations of the yellow media!