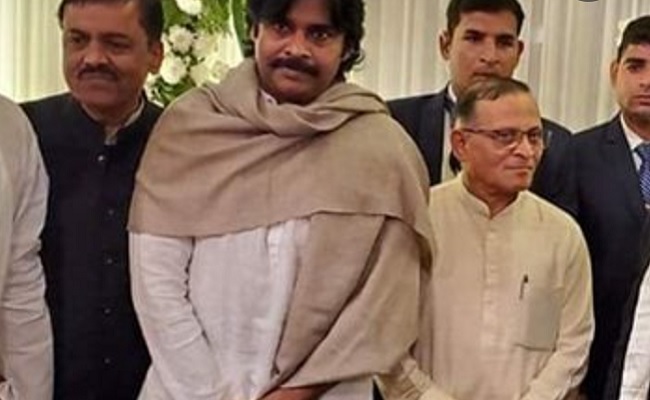 In a surprise development, power star and Jana Sena Party chief Pawan Kalyan went to New Delhi, amidst talk that he was called by the BJP high command for talks.
However, sources said Pawan Kalyan went to the national capital on an invitation from Union minister for parliamentary affairs Prahlad Joshi for the wedding reception of the latter's daughter Arpita with Hrishikesh.
Several VIPs including Prime Minister Narendra Modi attended the wedding reception and Pawan might use the opportunity to meet the bigwigs of the BJP to discuss the future course of the action by the BJP-Jana Sena alliance.
There has been a talk that the alliance between the two parties had been on rocks after the by-election to Tirupati in April this year.
Both the parties had not come into touch with each other after that and they were going ahead with their own programmes separately.
However, recently, the relations appeared to have been restored again as Pawan Kalyan and Andhra BJP leaders held talks in Vijayawada. But the Jana Sena continues to organise its own programmes like campaign against bad roads separately.
Against this backdrop, the visit of Pawan Kalyan to New Delhi is expected to thaw the relations between the BJP and Jana Sena, if he happens to meet any top BJP leaders.