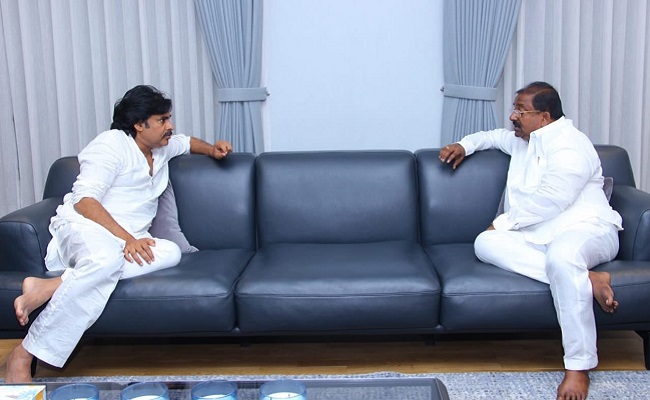 Bharatiya Janata Party in Andhra Pradesh, which has been saying that it still has an alliance with the Jana Sena Party headed by power star Pawan Kalyan, is understood to have decided to keep away from the forthcoming state-wide "yatra" of the power star.
BJP state president Somu Veerraju told reporters that the BJP would keep away from the "Vaarahi" yatra of Pawan Kalyan, because it was his personal programme.
"While the BJP will continue to ally with Pawan Kalyan, there is no need for the party to extend any particular support to his Vaarahi yatra," he said.
He reminded that the BJP and Jana Sena Party were two different political parties which have their respective political activities, tours and programmes.
"So, why should be interfere in other party's political activity?" Veerraju asked.
The BJP president reminded that in the past, his party had taken up several programmes like Jana Poru yatra, but Pawan Kalyan or his party leaders or cadres had not extended any support to the saffron party.
In the same breath, he reiterated that the BJP-Jana Sena combine would form the next government in Andhra Pradesh in 2024. He refused to comment on the seat sharing talks between the Jana Sena and the Telugu Desam Party.
"We don't want to respond on hypothetical questions. It is better to ask Pawan Kalyan himself what his plans are. Let him make a public statement saying he is not in alliance with the BJP, then we shall come out with our stand," Veerraju said.
On TDP chief N Chandrababu Naidu meeting Pawan Kalyan regularly, the BJP leader said since Pawan Kalyan is a glamorous hero, anybody can meet him and there was nothing wrong in it.
"When there are no political decisions in such meetings, we don't find fault with such meetings," he added.