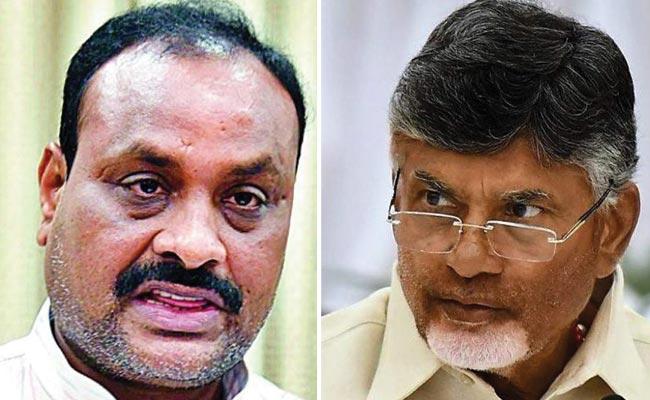 It looks like TDP president and former CM N Chandrababu Naidu is playing a game of hide and seek with the members of Kinjarapu family which has been the party's pillar of strength in north coastal Andhra.
Kinjarapu family is one of the biggest political families in north-coastal Andhra. In the last four decades, it had produced several leaders who played a major role in the state and the Centre as cabinet ministers, MLAs and MPs. The family enjoys such a massive support from the people.
Even when there was no support from the TDP, late Kinjarapu Yerran Naidu had won the seat as an independent. During the recent elections, too, when the TDP was swept away in the tsunami of Y S Jagan Mohan Reddy, it was only Kinjarapu family which managed to withstand this storm.
While Yerran Naidu's brother Kinjarapu Atchan Naidu won from Tekkali, his son K Rammohan Naidu had won the Lok Sabha seat from Srikakulam. Similarly, Yerran Naidu's daughter Adireddy Bhavani also won the assembly seat from Rajahmundry.
Now, Kinjarapu's followers are said to be terribly upset with the game being played by TDP president N Chandrababu Naidu with the family. Initially, there were leaks from the party that Rammohan Naidu would be made the president of Andhra Pradesh unit of the TDP.
Later, there was another leak from the party stating that Rammohan Naidu's uncle Atchan Naidu would be given the party president post. But finally, nothing of that sort has happened creating a confusion among the cadre.
The party workers in north coastal Andhra are grumbling over these contradictory leaks and are wondering whether Naidu was trying to create a wedge between uncle and his nephew.
"First of all, nobody from Kinjarapu family asked for any posts or positions. Now, why should the party bring their names into discussion and later dump them? It is better Naidu put an end to this double game and announce the party president for the state at the earliest," a party worker observed.
Click Here for Latest Direct-to-OTT Releases (List Updates Daily)