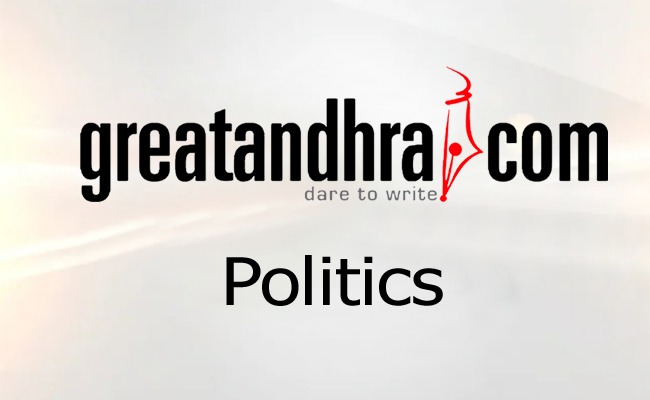 A couple of days back, Jagan shocked one and all by saying that according to astrologers, Babu will not be in power for more than two years.
Now, it is no rational analysis. But the TDP has taken the opportunity to get on to the case of Jagan once again.
At least six ministers and many more senior leaders from TDP have reacted strongly to Jagan's statement.
While it is clear that some of them read out the letter issued by the TDP office, others based their argument on the letter.
In short, they were outrageous and have once again raked up the story of Jagan's jail term.
Of course, Jagan is politically naïve and he does not have the experience that many of them have. But before they make any such accusations, the TDP leaders must look into their backyard and try to answer a few of these questions on the minds of people:
No one from the TDP is willing to answer as to why the ruling TDP government has decided to procure 30,000 acres of land to begin with and then went on to 50,000 acres and now seems to be headed towards procuring nearly 1 lakh acres of land.
They decided to bring in architects, designers, planners and other experts from Singapore, as if India or for that matter Andhra Pradesh lacks the necessary talent pool.
Initially, it was announced that the master plan for the capital city would cost Rs 1200 crores. However, later the government decided to get a master plan for free.
In the draft agreement given out by the Andhra Pradesh government, it has been mentioned that the monies generated through various activities undertaken on land pooled can be taken by farmers. However, no one has bothered to explain what exactly this means and how exactly this will be possible. On the other hand, many fear that Singapore companies will be given ownership or at least lease of 100s or 1000s of acres in capital zone.
Making a world-class capital city is a welcome idea. But destroying acres of highly fertile, verdant lands to make way for concrete structures is totally unacceptable. In fact, TDP is behaving exactly opposite to what it had said in the past.
Thanks to party loyalists in some villages, some farmers might be willing to give away their lands voluntarily to the government. But there are other villages and other farmers who are not ready to part with their high-yielding farm lands. Will the government use force or any other method of coercion to grab their lands? They must remember that no government that had put the people in distress has reaped good results in the past.
Till now, there has been no answer to the primary question as to why the government is not constructing the capital in the government lands available in Krishna and Guntur districts.
These are just some of the questions that TDP leaders need to answer. Surprisingly, none of the leaders seem to have any plausible answers.
Meanwhile, Chief Minister Chandra Babu Naidu claims that he can always take the capital to Narravaripalem, but he is being refraining from doing so.
Now such comments lack a rational base and don't lead to appropriate solutions. He must remember that sitting in a responsible position, such talk is inappropriate coming from him.
Click Here for Latest Direct-to-OTT Releases (List Updates Daily)