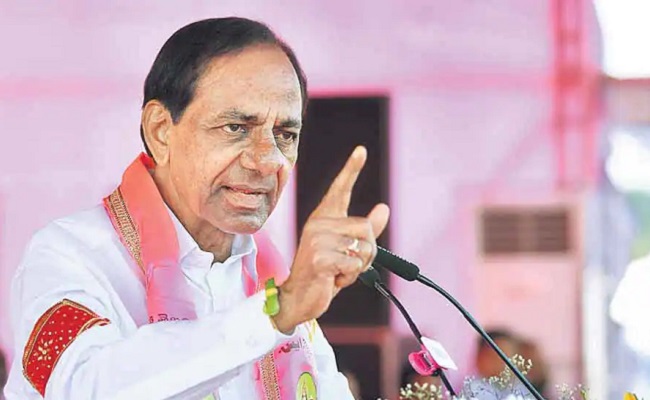 Telangana Rashtra Samithi president and chief minister K Chandrasekhar Rao has gone into a silent mode after announcing the renaming of his party as Bharat Rashtra Samithi (BRS) on Dasara, October 5.
Three days ago, KCR quietly left for New Delhi and his party leaders have been constantly leaking news to the media that he is seriously involved in the talks with his party leaders over the next course of action.
But that has not really caught up with the media. Even the local media have stopped giving any coverage to KCR.
While the entire focus of the local media is now on the by-election to Munugode assembly seat, nobody is bothered about the national political plans of the TRS/BRS chief.
And the national media, which has initially shown some interest in giving coverage to the BRS, has also started ignoring him.
Though KCR has been in New Delhi for the last three days, there is absolutely no news about him and his so-called brainstorming with the party leaders.
So, the TRS people have started leaking news to the media that sounds interesting. According to the latest information, KCR is said to be planning something big to hog the national limelight in the coming days.
Sources said KCR is planning to hold a huge public meeting in New Delhi on December 9 where he would announce the philosophy and agenda of the BRS and unveil the new flag of the party.
But before that, KCR wants to take out a massive rally of vehicles from Hyderabad to New Delhi. He will travel by road to the national capital with stop overs at several places along the route, where he will address a series of meetings.
"He will pass through Maharashtra, Madhya Pradesh, Uttar Pradesh and Haryana before reaching New Delhi. All along the route, he will address big rallies to establish himself as a national leader. He will ensure that the BRS is popularised across these states," a TRS leader said.
In the subsequent months, he will also travel to different parts of the country on his newly-acquired aircraft and establish network of his party.
"His plan is to see that the BRS will be a force to reckon with by early 2024," he added.
Whether it is just a hype or he will really do it remains to be seen.