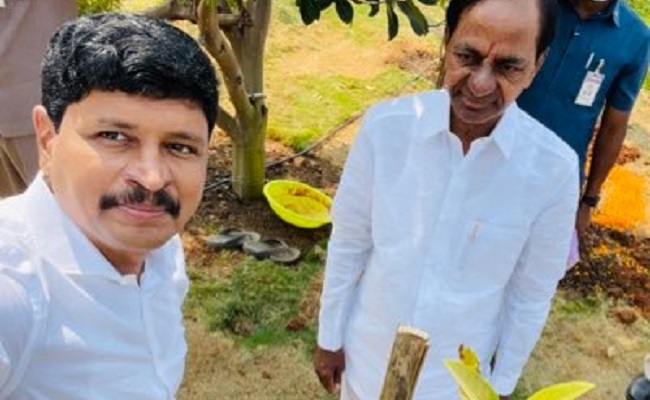 If the reports doing rounds in Telangana political circles are to be believed, Telangana chief minister K Chandrasekhar Rao's nephew and Telangana Rashtra Samithi's Rajya Sabha member Joginapalli Santosh Kumar has been keeping away from Pragati Bhavan, the official bungalow of KCR, for the last few days.
According to these reports, KCR himself has kept Santosh at bay and asked the latter not to come to Pragati Bhavan.
Apparently, there have been serious differences within the family of KCR over the role to be played by Santosh after KCR launches the national party after Dasara.
KCR's son and state IT minister K T Rama Rao doesn't want Santosh to be anywhere in the Telangana politics, while KCR wants to entrust a bigger role for Santosh in the state.
There is also another talk that KCR has come to know about the probable CBI and ED raids on the people close to Santosh in the alleged Delhi liquor scam. Since Santosh has direct connections with Pragati Bhavan, the raids would definitely cast a shadow on KCR himself.
That is precisely why KCR has asked Santosh not to come anywhere near Pragati Bhavan, at least till the ED investigation is over.
Otherwise, Santosh has been an inseparable part of KCR's daily life – morning to evening, as he handles all the personal affairs of his uncle. Even when KCR goes to farmhouse, Santosh will invariably go there to take care of all the former's needs.
He has been part of every discussion KCR holds with any politician or official and is in the know of every policy decision the government takes.
KCR's own family members are suspecting that Santosh had made huge money because of his proximity with the chief minister.
So, if the reports of KCR keeping Santosh at bay are true, it is definitely a major development in the family and the party!