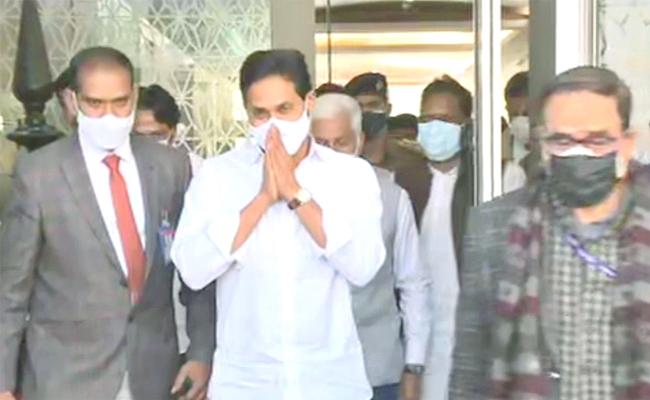 YSR Congress party president and Andhra Pradesh chief minister Y S Jagan Mohan Reddy on Monday left for New Delhi on a two-day visit.
He would be meeting Prime Minister Narendra Modi in the evening and if possible, home minister Amit Shah on Tuesday morning.
Whenever Jagan goes to Delhi, the CMO leaks the same old information about the issues he would be raising with the Central leaders – like special category status, Polavaram funding, pending promises made in AP bifurcation act etc.
This time, there might be another issue related to release of additional assistance from the Centre towards flood relief works in the south coastal Andhra and Rayalaseema districts that suffered heavy damages during the November rains.
Sources, however, said Jagan might seek clarity from the Centre on the three capitals issue this time. Since the Bharatiya Janata Party has taken a categorical stand in support of retaining the capital city at Amaravati, the chief minister is apprehensive that the Centre might not extend any help to the development of executive capital at Visakhapatnam.
Though the Centre has officially said the location of the capital city is the state government's prerogative, it has realised the intensity of the demand for retention of the capital at Amaravati and its political fallout.
So, if the Centre takes a pro-Amaravati stand, it would be a tough time for Jagan to get funds from the Centre towards infrastructure development. So, he would discuss the issue with the Prime Minister and also home minister to get clarity on the issue.
Depending on the response and suggestions from the Delhi bosses, the chief minister will take a decision on how to go about with the three capitals issue.
He has already withdrawn the three capitals bill in the state legislature and is expected to reintroduce it in the budget session with amendments to avoid legal hurdles.
Among other issues, the chief minister will also discuss the permission from the Centre to raise additional borrowings for the next three months of the financial year.