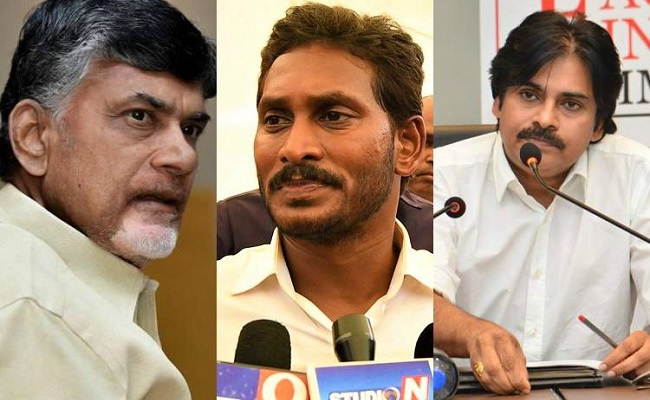 The stupendous victory of the Bharatiya Janata Party in the assembly elections in four states – Uttar Pradesh, Uttarakhand, Goa and Manipur – has rocked the entire nation.
The outcome of these assembly elections, particularly in Uttar Pradesh, has established that the saffron party is firmly rooted in the country and it is very difficult for any other party to uproot the same.
Naturally, congratulations have been pouring in for the BJP from all corners of the country. Even the parties which lost the elections either called up the BJP leadership or sent their wishes to it through social media.
Many leaders tweeted sending their best wishes to the BJP and tagged Prime Minister Narendra Modi, UP chief minister Yogi Adityanath, home minister Amit Shah and BJP national president J P Nadda to their tweets.
Surprisingly, there were no such messages from the Telugu states. Neither YSR Congress party president and Andhra Pradesh chief minister Y S Jagan Mohan Reddy nor his Telangana counterpart, TRS president K Chandrasekhar Rao sent any messages to Modi or any other top BJP leaders over the party's resounding victory in the four states.
One can understand KCR avoiding Modi and the BJP, as he has been attacking them in strongest terms in the recent past, though it is a matter of courtesy for him to wish even his bitter enemies, when they achieve success.
But one fails to understand why Jagan Mohan Reddy did not choose to greet Modi or Yogi or the BJP leadership.
He has been maintaining good relations with Modi-led Central government and is also with the top leadership of the BJP, though he is not politically aligned towards the saffron party.
Yet, he chose not to wish even on twitter, if not calling up the Central BJP leadership, even for courtesy sake, for the reasons best known to him.
So is the case with Telugu Desam Party president N Chandrababu Naidu.
He generally doesn't lose such an opportunity to get closer to the BJP leadership, but for some reason, he remained silent and did not even tweet congratulating Modi or Shah or Yogi or Nadda.
And all the more surprising was the silence of power star and Jana Sena Party president Pawan Kalyan, who happens to be the political ally of the BJP. Yet, he, too, did not choose to wish the PM or the UP chief minister. There was neither a statement nor a tweet from him on the BJP victory in four state assembly elections.
Does this indicate any realignment of political forces in Andhra Pradesh? Let us watch out.