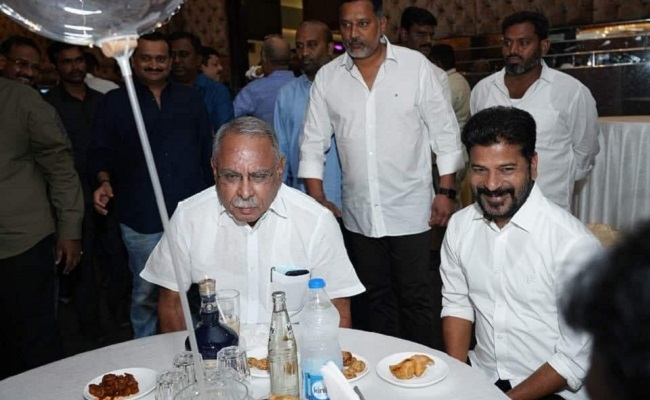 Congress former MP, K V P Ramachandra Rao, is known as the soul (Atma) of late Dr Y S Rajasekhar Reddy.
KVP, as he is called popularly, became the Rajya Sabha member only because of YSR. In fact, if KVP had gained anything, even in terms of publicity, it was because of the late Dr YSR.
Dr YSR even refused to meet the high command, if it did not allow KVP to be with him in the meetings.
That was the importance that Dr Rajasekhar Reddy gave to KVP.
When Dr YSR died and the Congress high command did not care to hold a condolence meeting in the Assembly for more than three months, KVP did nothing.
When Dr YSR's family members were dragged onto the streets and YSR's son Jagan Mohan Reddy was arrested by the CBI in false cases, KVP remained a mute spectator.
KVP enjoyed all the political clout even after the death of Dr Rajasekhar Reddy, though the clout was because of his relationship with the late leader.
It is suspected that KVP enjoys any criticism against Jagan Mohan Reddy. It is said that he is behind Raghurama Krishnam Raju's abusive rebel attack on Jagan Mohan Reddy.
The other day, KVP was a special guest at the Congress leaders' gathering in Hyderabad.
Shockingly, KVP shared some pleasant moments during the meet, particularly by sharing the table with Telangana Congress working president A Revanth Reddy.
One cannot forget the uncharitable comments that Revanth Reddy, as TDP leader, made against Dr Rajasekhar Reddy.
It was the most unexpected act of KVP to dine with the critics of Dr Rajasekhar Reddy and that of his son Jagan Mohan Reddy even now.
Instead of being with the YSR family, the Athma of the late leader is encouraging YSR critics and his son Jagan Mohan Reddy's rivals.
That would mean that the soul (Atma) is working against the body!