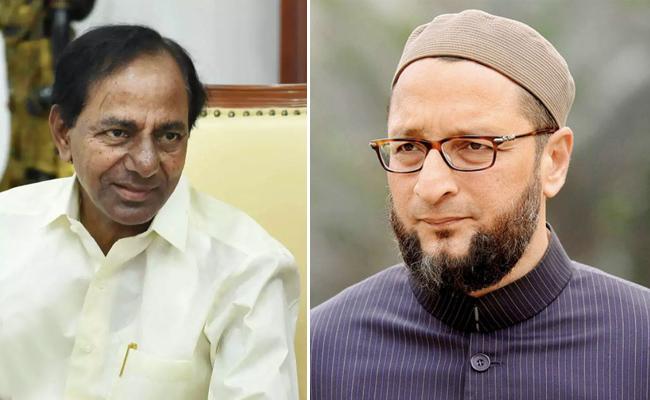 The BRS and AIMIM are known as 'friendly parties.' Although AIMIM opposed BRS during the statehood agitation, it extended a friendly hand to BRS after the formation of Telangana State and BRS came to power in June 2014.
BRS supremo and Chief Minister K Chandrashekar Rao had openly declared that AIMIM is the 'friendly party' of BRS.
AIMIM, which is attempting to expand to all states and has even contested Assembly polls in Maharashtra, Uttar Pradesh, Bihar, West Bengal, etc., surprisingly, is not expanding in its home state Telangana. AIMIM, as usual, has confined itself to the Old City in Hyderabad.
It is believed that AIMIM was doing this to benefit BRS in Telangana. If it contests all the seats in Telangana, it would divide the Muslim vote and damage BRS's prospects, ultimately helping Congress in Telangana.
BRS and AIMIM were engaged in a 'friendly contest' in the Old City, with BRS fielding weak candidates in Assembly polls to split the Hindu votes and defeat BJP.
But surprisingly, all of a sudden, AIMIM chief and Hyderabad MP Asaduddin Owaisi changed his tone.
Owaisi addressed two public meetings in Adilabad and Sadashivpet in Sangareddy district in the last three days. In both these districts, Owaisi slammed the BRS government, alleging that it failed to release funds for welfare schemes and development programs meant for Muslims.
Owaisi said that the Opposition BJP and Congress claim that BRS (car symbol party) steering is in the hands of Owaisi, but they should answer why none of the schemes or development programs meant for Muslims were receiving adequate funds from the state government if BRS steering was really in his hands.
Owaisi warned BRS not to take AIMIM friendship for granted. He expressed his ire at BRS, stating that BRS was not seriously waging a battle against BJP, which is why BJP is growing in Telangana.
Owaisi also asked BRS not to display their love towards AIMIM 'secretly' but to display it openly. Owaisi also said that he will visit all the districts in Telangana and hold public meetings without making it clear whether he has plans to contest Assembly elections in all the districts or not.
Owaisi's comments fueled speculation in political circles that all is not well between KCR and Owaisi, and that's the reason for his outburst.