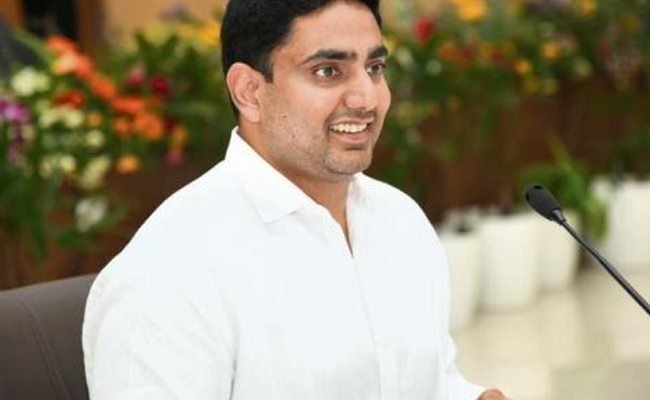 When we say 'our people, our party, our community' even weaknesses look like strengths. Even if they fall they will say they fell on top and no matter what they will support.
But in the case of TDP supremo Chandrababu Naidu and his son the 'prince' Chinna Babu, two different opinions are coming out.
It is an open fact that the majority of Kamma community support TDP. History reveals that the foundation to that party came from this community.
Irrespective of the party's victory or defeat, Chandrababu is always admired by them. However, it is now being heard from the Kamma circles that a different pattern is being noticed.
Admiration for Chandrababu is there, the support for party is also there. But the confidence and hopes on stamina of 'Chinna Babu' Lokesh is slimming down alarmingly.
The Kamma heads are feeling proud and energized with the commitment, fighting spirit and hardwork of Chandrababu but when they see Lokesh they are feeling extremely disappointed and worried about the party's future.
Inside sources say one set of Kamma heads have come to a conclusion that Lokesh doesn't have the ability of aptitude to lead the party to victory path or reinstate it strongly. Even at this age Chandrababu is the one fighting and not directing Lokesh to lead the fight.
The reason for this is the lack of that stamina in Lokesh, as per their calculation. Hence, the common opinion among TDP admirers is, it is better Chandrababu continues his fight instead of unnecessarily trying to get Lokesh in the front and invite headaches.
Though they are not revealing it outside, the Kamma community insiders feel the defeat of Chandrababu and his government was due to the activities of Lokesh's coterie when they were in power.
Given the circumstances, the opinion being expressed strongly is, Chandrababu should still take things forward in the driver's seat and put Lokesh in the backseat.
For now, Chandrababu would continue to fight which is fine but what about the party in future? Can Lokesh develop the stamina to hold the reins of the party? Does he have that potential?
Maybe those outside may have some hope but it appears that the biggies inside this community have a different opinion.
Maybe that's the reason why the youth of this community is pinning its hopes on Junior NTR.
When that situation comes Junior will certainly come to the rescue is the hope being expressed among inside discussions.
Going by all this, it looks certain the future of Telugu Desam Party is going to return to the hands of the Nandamuri family once again.