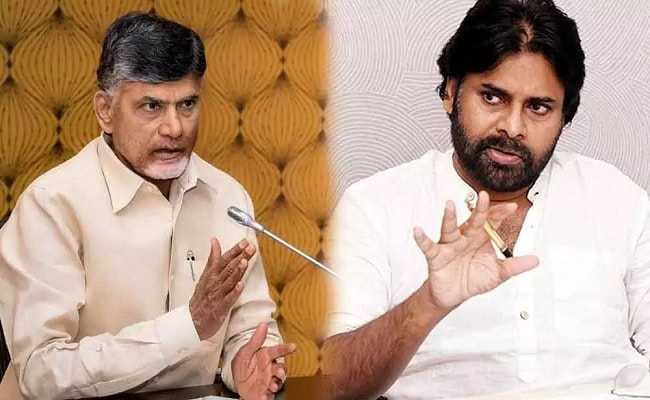 A surprising piece of news has come to light, as informed by credible sources.
The news is that the TDP President, Chandrababu Naidu, recently met with a well-known media personality for a discussion that lasted approximately for five hours. Grapevine has it that they talked about the current political situation in Andhra Pradesh in depth.
Apparently, during the meeting, the media head made a sensational recommendation to Chandrababu, suggesting that Telugu Desam and Janasena should contest together and announce Pawan Kalyan as the Chief Minister candidate.
The reasoning behind this proposal is that if this happened, they would be assured of a 100% win. The media head stated that no matter how Pawan's party is structured, he has a strong following and announcing him as the CM candidate would be advantageous as the entire Janasena cadre would work with enthusiasm.
The media head has close ties with the central leadership of BJP, which raises doubts about the origin of this advice.
The media magnate is determined to prevent Jagan from becoming the CM. He feels that if Jagan comes back to power again, his media empire comes to an end.
However, Chandrababu rejected the proposal immediately, stating that this is his final battle and he would not be the CM, whether he wins or loses if the idea of the media baron is implemented. He saw no point in proposing Pawan as the CM when both outcomes would result in the same.
The media head did not respond to the leader's rejection, but he is resolute in his stance. On the other hand, Chandrababu cannot make such a sacrifice. If TDP doesn't win and Lokesh doesn't become the CM, the political future of TDP will be uncertain.
That is why Chandrababu is preparing for a battle in his own style and denied the media head's proposal.