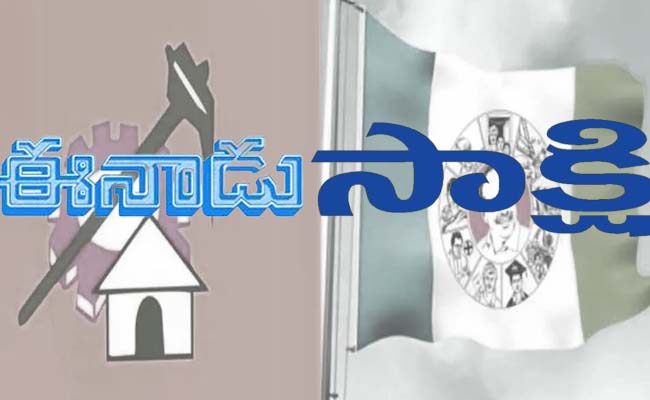 Eenadu wrote an article stating that the government has allotted expensive lands for YSRCP offices. As a counter to this, Sakshi Daily wrote a half page article with the title 'Edi Nijam.
Sakshi says that Chandrababu Naidu did the same thing in 2016 and why Eenadu didn't write at that time?
The daily questioned why Ramoji Rao didn't question Chandrababu's government when he swallowed lands worth crores of rupees to build party offices as per a GO brought by him.
The daily also mentioned about the NTR Bhavan near KBR Park as well.
Eenadu is a hardcore TDP daily though not being run by any family member of Chandrababu Naidu. There is no dispute in that. It lives in the guise of being people's voice, but everything runs on a selfish agenda. Eenadu never writes anything against Chandrababu.
It is also known that Chandrababu does all kinds of manipulations whenever he is given power.
Sakshi is also going in Eenadu's path. While giving the counter, the daily maintained a tone that why can't the YSRCP government do something that Chandrababu did in his regime.
Is it reasonable to allot the vast government lands to political party offices? Who is going to be benefitted with that? Such lands should be allotted for hospitals and schools in the interest of the public.
In this case, both TDP and YSRCP did the same mistake. The people have elected YSRCP after getting vexed up by the TDP. How can the elected party commit the same mistake?